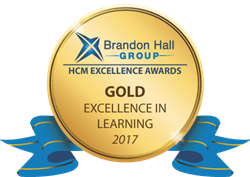 "We are honored to be recognized as an Excellence in Learning Gold Award winner by the Brandon Hall Group for the SDG Academy program we created for SDG Academy," says Karl Mehta, Founder and CEO of EdCast
Mountain View, CA (PRWEB) September 18, 2017
This past week, Brandon Hall Group announced that EdCast, the AI-powered Knowledge Cloud for unified discovery, knowledge management and personalized learning, won a Gold Award for excellence in the Best Unique or Innovative Learning and Development Program category. The award was granted for working with Sustainable Development Solutions Network (SDSN) to deliver the SDG Academy.
The SDG Academy is an independent non-profit organization that was set up to support the work of the United Nations-mandated SDSN. The SDG Academy provides high-quality, massive open online education in collaboration with the member institutions and partners of the SDSN to learners in every part of the world through the EdCast's Learning Experience Platform (LXP).
"We are honored to be recognized as an Excellence in Learning Gold Award winner by the Brandon Hall Group for the SDG Academy program we created for SDG Academy," says Karl Mehta, Founder and CEO of EdCast. "We are happy to support this critical mission, and EdCast remains committed to making knowledge-sharing and learning easier than ever."
"Our partnership with EdCast has allowed us to develop knowledge solutions that provide critical information and courses to be accessed online and via mobile platforms in an engaging manner around the world," states Chandrika Bahadur, President of the SDSN Association, which hosts the SDG Academy. "We are thankful for the Brandon Hall Group's recognition of our support of the Sustainable Development Goals by leveraging EdCast's innovative knowledge cloud."
The award entries were evaluated by a panel of veteran, independent senior industry experts, Brandon Hall Group analysts and executives based upon a number of criteria, including program design, functionality, innovation and overall measureable benefits.
"Excellence Award winners symbolize the power and impact that Human Capital Management practices can have on a business or on any organization," said Rachel Cooke, Chief Operating Officer of Brandon Hall Group and head of the awards program. "Many organizations can have great HCM initiatives, but the standard of excellence only applies for organizations whose HCM practices truly benefit the business. That's what the Excellence Awards program stands for."
About EdCast
EdCast is the AI-Powered Knowledge Cloud solution for unified discovery, personalized learning and knowledge management across the enterprise. Its award-winning platform is used globally by Fortune 500 companies and government organizations to solve the discovery, curation and recommendation problems of content fragmentation across external, internal and tacit knowledge sources. EdCast's solutions include its Learning Experience Platform (LXP), SalesU sales enablement suite, and GuideMe's multi-language in-app content authoring, which are now being used by visionary companies that include GE, HPE, Dell EMC and Accenture among others.
About SDSN Association
The mission of the SDSN Association is to support the mandate of the United Nations Sustainable Development Solutions Network (SDSN). The SDSN was launched in 2012 at the behest of the UN Secretary-General Ban Ki-Moon to mobilize research, academia, the private sector and civil society to promote the Sustainable Development Goals (SDG). Following the adoption of the SDGs in September 2015, the SDSN supports the implementation of the SDG at local, national, and global scales, and aims to accelerate joint learning and to help overcome the compartmentalization of technical and policy work by promoting integrated approaches to the interconnected economic, social, and environmental challenges confronting the world. For the full list of programs of the SDSN, please visit unsdsn.org.
About Brandon Hall Group
Brandon Hall Group is a HCM research and advisory services firm that provides insights around key performance areas, including Learning and Development, Talent Management, Leadership Development, Talent Acquisition and Workforce Management. With more than 10,000 clients globally and 20 years of delivering world-class research and advisory services, Brandon Hall Group is focused on developing research that drives performance in emerging and large organizations, and provides strategic insights for executives and practitioners responsible for growth and business results. (http://www.brandonhall.com).