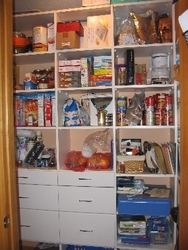 The end of summer and back-to-school planning are often times our readers look to us for storage ideas
New York, NY (PRWEB) August 20, 2009
At BHG.com and in Better Homes and Gardens magazine, readers will find the latest ideas and recommendations for bathroom storage, closet storage and garage organization. Content, which includes videos and photos, covers everything from 33 simple storage weekend projects to more comprehensive closet storage instructions.
"The end of summer and back-to-school planning are often times our readers look to us for storage ideas," said Doug Crichton, Editor-in-Chief of BHG.com. "We've updated BHG.com to include the latest storage trends that are simple and inexpensive to implement. Because of today's economy, our content emphasizes being creative without breaking the bank."
Storage suggestions and recommendation on BHG.com include:
Often bathrooms are small and can be damp, so these bathroom storage ideas with lots of illustrative photos present low-budget, innovative ideas for storing towels and toiletries to make life more convenient for the family and guests. To implement some of these ideas, neighborhood home building centers have easy-to-assemble shelving that is self-standing or can be mounted on the wall. Other bath storage ideas shown include using pottery bowls, kitchen platters, baskets, and tins to store bathroom items in creative, colorful ways.
Organizing closet storage and having the right storage shelves for the family can be very challenging. At BHG.com, there are closet storage ideas for children's rooms, laundry rooms, the mudroom, and the family catch-all closet. Photos illustrate how to organize your closet and give examples of smart closet makeovers. Design-a-closet templates offer the chance to select the type of storage closet you want and try out different variations to see what works best.
So many families have wonderful, big garages but still can't fit the car into them. The garage organization content on BHG.com has several photos of helpful storage ideas. Some of the suggestions are as basic as old fashioned pegboard with hooks. There are also suggestions for how to store the family's sporting goods so they are visible and easy to reach and how to choose the right storage for potentially dangerous chemicals.
To get up-to-the-minute household storage ideas and the latest Better Homes and Gardens magazine information, BHG.com invites readers to follow them on Twitter@bhg.
About BHG.com
Developed by the experts at Better Homes and Gardens, BHG.com is the premiere home and family site on the Web, and the interactive companion to Better Homes and Gardens magazine. BHG.com is for people interested in turning home, cooking, and gardening inspiration into action.
BHG.com is focused on decorating, building and remodeling, crafts, entertaining, cooking, and gardening. It also has extensive information for women and families. In addition to providing useful tools and advice, BHG.com's trusted experts keep visitors informed on the latest developments and trends around home and garden. BHG.com was designed with real people in mind. It has easy-to-use interactive tools, clear visuals, step-by-step instructions, and money-saving suggestions. It makes life easier and more enjoyable.
# # #