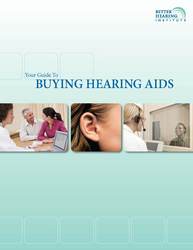 "This guide is designed to offer confidence and support by educating the consumer. We want to help ensure that anyone in need of a hearing aid receives the very best information and professional service available..."
Washington, DC (PRWEB) May 27, 2010
The Better Hearing Institute (BHI) announced today it has published a comprehensive consumer guide titled, "Your Guide to Buying Hearing Aids" (http://www.betterhearing.org under "hearing loss treatment"). The publication is designed to help people who have made the decision to address their hearing loss and regain their quality of life with the use of hearing aids. The guidelines give confidence to first-time hearing aid buyers by providing a detailed, step-by-step breakdown of what to expect, ask, and look for when visiting a hearing care professional and purchasing a hearing aid.
"For many people, the decision to address hearing loss and purchase a hearing aid is a decision made over time," says Sergei Kochkin, PhD, BHI's executive director. "This guide is designed to offer confidence and support by educating the consumer. We want to help ensure that anyone in need of a hearing aid receives the very best information and professional service available so they can make the very best purchasing decision possible. This publication is especially timely as May is recognized nationally as Better Hearing and Speech Month."
"Your Guide to Buying Hearing Aids" walks the consumer through five distinct phases of the purchasing experience:

Gathering Information and Scheduling the First Appointment
Arriving for Your First Appointment
What to Expect During Your First Appointment
What to Expect During the Hearing Aid Fitting
What to Expect During Post-Fitting Follow-Up and After Care
The publication provides detailed and practical advice, anticipating the broad spectrum of questions that people often have when addressing their hearing loss for the first time.
The topics covered in the guide are comprehensive, ranging from how to find a qualified hearing healthcare professional to financial tips to the kind and caliber of follow-up consumers should expect from hearing health professionals after purchasing a hearing aid.
Specific examples of the practical advice given as part of the guidelines includes: bringing a trusted companion for support and to help take notes during appointments; asking in advance whether the hearing test is covered by insurance; making sure that hearing tests are reliable and accurate by determining if your hearing loss will be tested in a sound booth; requesting a copy of test results for your records and for your family physician to review; asking for a simulation of how you hear with and without the hearing aids in different listening situations, such as in a place of worship or a noisy restaurant; expecting to be shown test results demonstrating the hearing benefit received from the hearing aids; determining if the hearing healthcare provider utilizes real ear measurement to verify the accuracy of the hearing aid fitting; and reminding consumers that they should never feel pressured to buy or make an immediate decision about purchasing a hearing aid. Ultimately, the decision to purchase should be based on whether the hearing aids demonstrably improve your ability to hear.
The number of Americans with hearing loss has grown to more than 34 million—roughly 11 percent of the U.S. population—according to a recent BHI study. Over the past generation, hearing loss among Americans has increased at a rate of 160 percent of U.S. population growth and is one of the most commonly unaddressed health conditions in America today.
Numerous studies have linked untreated hearing loss to a wide range of physical and emotional conditions, including irritability, negativism, anger, fatigue, tension, stress, depression, avoidance or withdrawal from social situations, social rejection and loneliness, reduced alertness and increased risk to personal safety, impaired memory and ability to learn new tasks, reduced job performance and earning power, and diminished psychological and overall health. The effects of untreated hearing loss can be especially devastating for children. Even a mild hearing loss can have a negative impact on language competence, cognitive development, social and emotional well-being, and academic achievement.
Advances in digital technology have dramatically improved hearing aids in recent years, making them smaller with better sound quality. Designs are modern, sleek, and discreet. Clarity, greater directionality, better speech audibility in a variety of environments, better cell phone compatibility, less whistling and feedback then hearing aids of the past, and greater ruggedness for active lifestyles are common features. In fact, nine out of ten hearing aid users report improvements in their quality of life, according to a survey by BHI of more than 2,300 consumers.
"The greatest advice I can give anyone purchasing a hearing aid is to communicate openly with your hearing health professional during the trial period about whether or not you are receiving satisfactory benefit from your hearing aids," concludes Kochkin. "Today's advanced hearing aid technologies hold such great potential to improve the quality of life for so many people. But for these technologies to be optimized for your unique hearing loss, an open two-way dialogue, persistence, and patience are essential. Be assured that the end rewards are well worth the effort-and congratulations in your decision to address your hearing loss."
Founded in 1973, the BHI (http://www.betterhearing.org) conducts research and engages in hearing health education with the goal of helping people with hearing loss to benefit from proper treatment. For an online hearing test where individuals can quickly and confidentially assess if they need a comprehensive hearing check by a hearing professional, visit (http://www.hearingcheck.org).
# # #