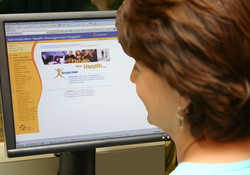 As a leading healthcare provider, we believe offering this kind of service is a necessary part of promoting health within our community and the surrounding communities we serve.
Omaha, NE (PRWEB) October 17, 2010
Rising healthcare costs are placing a heavy burden on U.S. businesses. According to a 2007 study conducted by Kaiser Family Foundation and Health Research Trust, 69% of companies offered health insurance to employees in 2000 whereas only 60% of businesses provided coverage in 2007, and this percentage continues to decline. Insurance premiums continue to increase, outstripping workers' earnings, and placing ever increasing demands on company healthcare budgets. Businesses are looking for an answer to this national healthcare dilemma, and over 200 companies across the U.S. and Canada have turned to SimplyWell for the answer.
In 2004, SimplyWell partnered with Baldwin Hackett & Meeks, Inc. (BHMI) to create a web-based, HIPAA compliant healthcare application that is revolutionizing the corporate wellness and health management industry. Integrated healthcare products based on SimplyWell's application have been helping employers to create a healthier workforce, reduce the number of employee claims and minimize overall health insurance costs. SimplyWell product solutions, now being used by over 130 corporations in all 50 US states, have set a new standard in preventive healthcare.
The latest SimplyWell offering is SimplyYours, a Health Partnership opportunity for hospitals. With BHMI's help, SimplyWell has repackaged its proven business model and market expertise into a solution specifically for hospitals that want to create a new revenue stream by offering services to local employers. SimplyYours offers:
Tailored Solutions
Customizable Features
Integrates With Existing Wellness & Health Services
Private Label Option
Hospitals Utilize Their Own Staff
Same Day Health Results
Proven Application
Simple Deployment & Usage
The SimplyYours Health Partnership gives hospitals access to proprietary software programs, Internet applications and employee educational tools. This includes SimplyWell's acclaimed medically based, data driven platform and flexible, high-tech wellness portal developed by BHMI. Using these resources, hospitals can integrate and package their existing wellness and health services into the portal to create their own tailored solutions for local employers.
The SimplyYours Health Partnership offers hospitals a chance to build lasting business relationships with local employers who are interested in creating a healthier workforce. It also gives the hospitals access to company employee bases, which represent a large pool of commercially insured consumers. "Maintaining a healthy bottom line while ensuring that hospital programs and services reach all individuals who need them is what good, responsible healthcare is all about," states Dr. James Canedy, Founder and President of SimplyWell.
Alegent Health in Omaha, Nebraska was an early adopter of the SimplyYours model by introducing this wellness application under its own private label to approximately 9,000 employees in 2009. Since then, other innovative health systems, such as Faith Regional Health Services in Norfolk, Nebraska, have also implemented the program for their own employees and have begun offering population health management services to their community. "In 2010, we launched our occupational health and wellness program, offering wellness, therapy and occupational medicine services to several community business partners" states Traci Fox, Wellness Coordinator for Faith Regional Health Services. "As a leading healthcare provider, we believe offering this kind of service is a necessary part of promoting health within our community and the surrounding communities we serve. Our primary goal is to promote workforce wellness and foster healthier lifestyles among local residents."
ABOUT SIMPLYWELL
SimplyWell LLC was founded by physicians in 1998 and is privately owned by Clarkson Regional Health Services and Private Practice Associates LLC. SimplyWell's Integrated Health Solutions product portfolio offers comprehensive solutions with proven results. SimplyWell provides solutions that identify risk and disease early and empower participants with the tools to modify personal health risks, stressing the importance of preventive care and individual accountability. SimplyWell is private, secure and HIPAA compliant. For more information on SimplyWell, please visit http://www.simplywell.com.
ABOUT BALDWIN HACKETT & MEEKS, INC.
As a specialist in creating primary software applications, BHMI not only provides premier software development services but also a comprehensive set of consulting, design, engineering, development and support services that can help shape the future direction of any company's application infrastructure and technical landscape. Whether it involves a new idea to pursue, a new solution to design, a software application to migrate, a web site to create, or a completely new application to build, BHMI has the in-house personnel, application infrastructure and technology to make it succeed. For more information on BHMI, please visit http://www.bhmi.com.
###