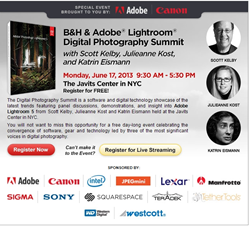 B&H Photo & Adobe® Lightroom® Digital Photography Summit with Scott Kelby, Julieanne Kost and Katrin Eisman at Jacob Javits Center in NYC
New York, NY (PRWEB) June 11, 2013
B&H Photo & Adobe® Lightroom® Digital Photography Summit is a software and digital-technology showcase of the latest trends, featuring panel discussions, demonstrations, and surprises from Scott Kelby, Julieanne Kost and Katrin Eismann, held at the Javits Center in NYC.
RSVP now—this event is free to the public, and one will not want to miss this opportunity for a day-long event celebrating the convergence of software, gear and technology, led by three of the most significant voices in digital photography.
Monday, June 17, 2013 | 9:30 AM - 5:30 PM
Speakers: Julieanne Kost , Katrin Eismann , Scott Kelby
Event Type: Photography, Lighting, Software
Skill Level: Intermediate, Advanced
The Agenda Includes:
Live Shootout with Scott Kelby
Perfect Workflow for today's high megapixel advanced DSLR cameras shooting in RAW
Major Software Releases Demonstrated
Latest Technology in Cameras set in a mini trade show
High End Gear giveaways
Special Show Discounts
Gear Trade In-Programs
The Digital Summit will be live streamed for those who cannot attend. Reserve for the stream here.
Proudly Sponsored by: Adobe, Canon, Intel, Elinchrom, Jpegmini, Lexar, Manfrotto, Sigma, Sony, Squarespace, Teradek, Tether Tools, WD, and Westcott.
Scott is Editor and Publisher of Photoshop User magazine, Executive Editor and Publisher of Lightroom and Light It magazines, and President of the National Association of Photoshop Professionals (NAPP). He is Training Director for the Adobe Photoshop Seminar Tour and Conference Technical Chair for the Photoshop World Conference & Expo. He's the co-host of the highly acclaimed weekly videocast The Grid (a photography talk show), and teaches photography, Lightroom, and Photoshop workshops around the world.
Scott is an award-winning author of more than 50 books, including The Photoshop Book for Digital Photographers and The Lightroom Book for Digital Photographers, and is currently the world's #1 best-selling author of books on photography.
Connect with B&H Photo on the web! (Facebook, Twitter, Tumblr, Google+, Pinterest, Flickr, YouTube, B&H Insights & InDepth)
About B&H Photo Video
As the world's largest source of photography, video and audio equipment, B&H Photo-Video is known worldwide for their attentive, knowledgeable sales force, and excellent customer service, including fast, reliable shipping. Visitors to the website can access a variety of enlightening articles and educational videos. B&H has been satisfying customers worldwide for close to 40 years.