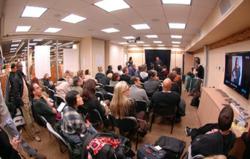 B&H Photo Video is excited to share with the photography industry the "Photografest" at the B&H Event Space
New York, NY (PRWEB) October 31, 2011
B&H Photo Video is pleased to offer an astonishing array of free seminars and inspirational lectures by talented pros from around the world.
The weather may be cooling, but we're only warming up at the B&H Event Space this November.
Linda Meyerriecks kicks off the B&H Event Space inspirational Sundays this month with Picture Editing in Today's Digital World with PhotoShepherd as Your Guide.
From the phortographers digital camera to the web, printed page, or your portfolio, Picture Editing, or Picture Selection, is the final step to showing your photography at its best. Not only do you need to select your own images, but photographers also need to know what professional picture editors are looking for. Linda Meyerriecks has been editing images for almost 40 years, primarily with the National Geographic Society.
Exceptional travel photography encompasses a variety of genres, including street photography, still life, and portraiture. In a typical day of travel, you can photograph busy festivals, quiet buildings, people, open landscapes or close-up imagery of nature. The best travel photographers are versatile in their skills and fluid in their process, using minimal gear to achieve maximum results. In the two hour seminar learn about the versatility you need to make your travel photos exceptional with David Wells.
Move between the editorial, commercial, and gallery based worlds with Winona Barton-Ballentin as [photographers bridge the gap between film and digital photography.
Sandra Carrion teaches how to utilize lousy plastic lenses to create beautiful works of art. Next, it's "Strawberry Fields Forever!" Sara Cedar Miller presents and signs her recently published book, Strawberry Fields: Central Park's memorial to John Lennon.
Nikon debuts their two newest camera systems, the Nikon J1 & Nikon V1 and Frank Dispensa is back again, and this time as your judge in the print competition. Eileen Rafferty leads photographers to mastering the visual design of a photograph and to turbo charge your photography business by delivering professional albums in 3D using SPC Software. Brave the cold where photography never gets old this November at B&H, the Professionals Source.
The B&H Event Space is a leading-edge learning environment designed to educate, inspire, and cultivate a community of like-minded individuals, who aspire to be great at what they love to do. By offering free workshops and lectures in photography, video and pro audio, it is our mission to help those in this community achieve their goals.
The B&H Event Space partners with major photography manufacturers in the imaging industry and academic institutions in the arts to produce a wide range of workshops and seminars covering a vast spectrum of topics. B&H "Mavens," employees who are experts on a specific topic, teach classes in the Event Space. On Sundays, high-profile and emerging photographers, as well as industry professionals, deliver inspirational lectures about their work and spin their personal tales of success.
The B&H Event Space is more than a physical space. We feature event videos online that are also available through podcasts, so that you can view them at home or while traveling.
The B&H Event Space is located on the second floor of our SuperStore, at 420 9th Ave, New York, NY 10001.
About B&H Photo Video
As the world's largest source of photography video and audio equipment, B&H Photo-Video is known worldwide for their attentive, knowledgeable sales force, and excellent customer service, including fast, reliable shipping. Visitors to the website can access a variety of enlightening articles and educational videos. B&H has been satisfying customers worldwide for close to 40 years.
###