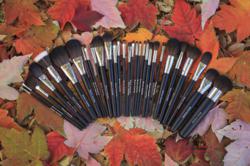 This sale will only happen one time this year and it's an exciting time for BHUMI customers.
Las Vegas, Nevada (PRWEB) November 25, 2012
BHUMI inspires holiday shoppers of all kinds with its first annual Cyber Monday sale. The makeup brush brand offers all customers 40% off its entire stock. Lasting one day only, the exclusive sale will be available Nov. 25 from 12:01 am through 11:59 pm.
"BHUMI is becoming big and people everywhere are starting to take notice," said Kari Kisch, celebrity stylist and BHUMI president. "This sale will only happen one time this year and it's an exciting time for BHUMI customers."
In addition to receiving 40% off, consumers who capitalize on this first annual offer will receive free shipping and a free gift. All products are available for purchase at the 40% discounted rate including the three different categories of brushes: BHUMI BEGIN for beginners, BHUMI COR E for beauty consumers and BHUMI MASTER for professionals. One of the most popular-selling products is BHUMI BEGIN – a 5-piece colorful brush set originally $79.95 on sale for $47.97.
BHUMI Makeup Brushes
Launched in October 2011, BHUMI Makeup Brushes has the most technologically advanced makeup brushes on the market. Its name means "of the earth" and comes from Sanskrit, one of the oldest, most sacred languages of human civilization and the birthplace of ancient wisdom.
Referred to as the Rolls Royce and the Lamborghini of makeup brushes, many consumers attest that BHUMI brushes feel like silk. Its bristles are 100% synthetic, composed of multi-diameter bio-strand fibers.
While the majority of makeup brushes are made with natural hair, BHUMI brushes are cruelty-free and harness more strength than natural hair. This composition results in bristles that don't deteriorate, break, or shed and that restore to their original shape after a thorough cleansing. Its non-porous fibers are hypoallergenic and resist bacteria. Every brush is individually designed with complete precision and tapering and built to perfectly fit into the coutours of the face. As a result, makeup products applied with BHUMI brushes blend perfectly for flawless texture and composition while colors stay vibrant for extended periods of time.
For more information, please call (702) 990-3368 or visit http://www.bhumimakeupbrushes.com. Find BHUMI on Facebook, Instagram and follow on Twitter.
###