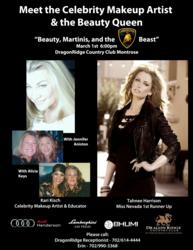 The best kept makeup secrets of the fashion industry, the hottest Lamborghini cars, in a breathtaking venue overlooking the Las Vegas Strip.
Las Vegas, Nevada (PRWEB) February 27, 2012
On Thursday, March 1st at 6pm, Bhumi Makeup Brushes & Lamborghini Las Vegas with DragonRidge Country Club will host an evening to remember. The event, Beauty, Martinis and the Lamborghini Beast, will feature celebrity makeup artist Kari Kisch, who will demonstrate the best-kept makeup secrets of the fashion industry using Bhumi Makeup Brushes. Lamborghini of Las Vegas and Co-host Audi Henderson will display the latest in 2012 German engineering.
About Bhumi
Since its launch, Bhumi Makeup Brushes has rapidly made a name for itself as the most technologically advanced professional grade line of makeup brushes on the market. Ms. Kisch welcomes the opportunity to present what this new line of makeup brushes can do to create a flawless airbrush finish, whether used by professional stylists, high-end brands, or consumers. First Runner Up in this year's Miss Nevada competition, Tahnee Harrison, will be the model for the evening.
"These brushes deliver such precision with such versatility that they give stylists the freedom to truly execute their vision, without technical limitations," states Kari Kisch, also Bhumi's Director of Education. "It's the brushes that make the face, but it's you who makes the magic."
About the Event
The invitation-only event, that will also feature the hottest Lamborghini and Audi cars, will have a martini and tapas bar for a $25 cover. It will be held at the DragonRidge Country Club for a select group of top stylists, high-end salons, industry insiders, and consumers from around the country. Designed by Jay Morrish and David Druzisky to incorporate the natural beauty of the rolling desert foothills, sweeping elevation changes, natural canyons, and preserved rock formations of the desert, the club is the perfect backdrop for the inner and outer beauty that Bhumi Brushes will reveal.
For More Information
For more information about the event, media credentials, or for more about Bhumi Brushes, please contact Erin Utter, Director of Operations, Bhumi Makeup Brushes, at 702/990-3368 or 702/612-0394, email erin(at)emailbestbeauty(dot)com or visit bhumimakeupbrushes.com.
###