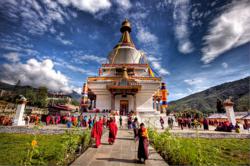 "We want our clients to participate actively in their itinerary planning, as they know the best about what suits them and what doesn't," says Lakey Wangmo, the cofounder of BhutanTravelAgency.com
Thimphu, Bhutan (PRWEB) October 25, 2011
While Bhutan is known mainly for its breathtaking beauty, there is a lot tourists can do besides soak in the incredible splendor. Now, tourists will be no longer at the mercy of various Bhutan tour operators, as they will have access to soon to be launched Bhutan Travel Guide by a leading Bhutan tour operator, BhutanTravelAgency.com to help them design their own itineraries.
Visitors to Bhutan can enter the country through the only airport located in the scenic Paro valley, a 45 minute drive away from the capital Thimphu, or by road through Phuentsholing, a town that shares a border with India's West Bengal.
Tourists flying into the country are treated with stunning aerial views of snow-capped peaks jutting out of seas of clouds, as the plane zooms close to mountains dotted with pine trees in a broad valley with a shimmering ribbon of water and ancient fortresses.
Paro is one of the most visited towns in Bhutan as per all travel agents in Bhutan, and one of the biggest tourist attractions in the valley is Taktshang, or the Tiger's den monastery. Reached after a rather long hike up a mountain, the monastery is magnificently perched on sheer rock cliffs.
A giant Buddha with a benevolent smile welcomes visitors into Thimphu, the capital, a town free of skyscrapers or traffic lights. Besides several important and beautiful ancient monasteries, the curious national animal of Bhutan, the Takin, fabled to have the head of a goat and the body of a cow, can be seen here at the national zoo. The pubs and cafes in Thimphu are a great place to interact with the locals in the town, and is also dotted with handicraft shops.
The peak of Bhutan travel season coincides with the annual Tsechu festivals in the two towns. The richly colorful festivals are a religious event heavily attended by the locals, besides being a great tourist attraction.
Visitors can also go to Punakha, 2 hours away from Thimphu, which has the most beautiful of all fortresses in the country, the venue of the recent Royal Wedding, located on an island at the confluence of two rivers.
An hour from Punakha, Phobjikha valley, famous for the winter visits of the endangered and sacred black necked cranes which migrate from Tibet, and Gangtey Gonpa, an important religious center, is a must see for most tourists. The cranes are known to circle the monastery thrice as they alight into the valley and when they leave for summer.
Bumthang (sometimes translated as a hundred thousand meadows) is also popular in Bhutan tourism category for its gorgeous flat valleys that look like impressionist paintings. The town is rich in religious heritage and mythology, including the holy Mebartsho (the burning lake). It is also famous for its local produce like cheese and honey.
Trongsa is a little town enroute to Bumthang with a breathtaking dzong and a watchtower on a hill above which is a museum of monarchy and houses the Raven Crown.
The eastern reaches of the country have been largely unexplored by tourists, but are exotic nevertheless. Trashigang is a quaint little town close to several areas of tourist interest such as monasteries and areas famous for weaving and cane products.
Also accessible from here are the mysterious villages of Merak and Sakteng, opened to tourists and Bhutan travel agents recently after decades of isolation. The semi -nomadic inhabitants of this area have been leading lives untainted by modernity, and have a unique and fascinating culture.
Trashiyangtse, close to the Indian state of Arunachal, is well known for Chorten Kora, a white stupa built in the model of Bodhunath in Nepal, and other places of religious significance.
Tourists can choose between various activities like birdwatching, hiking, water rafting, experiencing religious festivals and monasteries, and the famous and difficult snowmans trek, which takes tourists to the highest, most isolated and spectacular places they have ever been, right to the foot of Mount Jomolhari 4000 meters above sea level.
Ideally various Bhutan travel packages should only come in customized form, as there is something for everyone in Bhutan, from the adventurous to spiritual, nature lover to cultural connoisseur, and simply immersing yourself in the place synonymous with happiness is sure to make for stuff that people call 'the experience of a lifetime'.
###