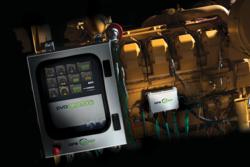 We are excited to offer a completely new product that applies the lessons learned from our work developing solutions for the harsh and dynamic environments in which mine haul trucks operate, said George Aguilera, GFS Corp's Vice President
Weston, FL (PRWEB) December 11, 2012
GFS Corp, an industry leader in the development of sophisticated engine controls and related hardware that allow for the substitution of natural gas in high horsepower diesel engines, has introduced its latest offering for the stationary power market, the EVO-SP™ System. The EVO-SP™ System is an all-new approach to the bi-fuel retrofit market that combines dynamic and intelligent gas controls with industry leading safety systems.
"As known innovators in bi-fuel, diesel engine conversion technology, we are excited to offer a completely new product that applies the lessons learned from our work developing solutions for the harsh and dynamic environments in which mine haul trucks operate" said George Aguilera, GFS Corp's Vice President.
The EVO-SP™ System adds many new, innovative features not seen in competitive products. At the heart of the new system is a powerful and intelligent Electronic Control Unit or ECU that monitors up to 25 channels of data and provides output to the gas controls to provide maximum substitution rates across the entire load range of the engine.
A proprietary air / gas mixer with an integrated high-speed throttle body is capable of taking input from the EVO-SP ECU and reacting quickly to varying load demands. In an industry first, a mass airflow sensor monitors intake air volume in real time to eliminate the problem of non-linear combustion airflow seen in modern engines.
The EVO-SP System incorporates a revolutionary engine protection technology. Dynamic Setpoint Protection™ (DSP) is a proprietary system that monitors critical engine parameters such as exhaust temperature and vibration levels across the full engine load range. Each monitored parameter has a discrete, "load-specific" safety setpoint referenced to 100% diesel performance curves. DSP™ allows for maximum gas substitution rates whether operating at light, medium or heavy engine loadings while ensuring that the engine is always operating within OEM specified limits.
Operators of the system will like the easy to use touch screen, graphical user interface that shows all critical engine data and gas substitution rates in real time. All normal, pre-alarm, alarm and shutdown modes are graphically displayed and can be remotely monitored.
Installation has been simplified with plug and play wiring harnesses and all other system components are pre-assembled and tested at the company's factory prior to shipping.
The system is applicable to all high-speed diesel engines ranging from 400 HP to over 4,000 HP. Distributors of the EVO-SP product benefit from the commonality of system components across a broad range of engine applications thus simplifying stocking requirements.
The EVO-SP system can be seen for the first time at PowerGen 2012, December 11-13 at the Orange County Convention Center in Orlando, Florida, booth 2633.
About Gaseous Fuel Systems (GFS Corp)
GFS Corp designs, manufactures and sells proprietary solutions that enable high horsepower, heavy duty diesel engines to operate on natural gas. The company's primary focus is providing fully integrated alternative fuel solutions for the mining, construction, stationary power and rail markets. For additional information, contact Kerry Hackney, Director of Marketing for GFS Corp at 954-693-9657 or visit the company's website at http://www.gfs-corp.com