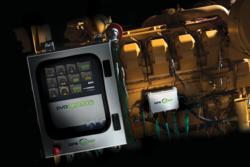 The EVO-SP System's advanced technology has conquered the difficult dynamic loads imposed by drilling and fracking operations, said Lanny Slater, GFS Corp's Director of Sales
Weston, Florida (PRWEB) April 25, 2013
Recent testing on drill rigs in the Barnett Shale Region in Texas where GFS Corp has installed its latest product offering, the EVO-SP™ System on drill rig generator sets has yielded impressive results. The EVO-SP™ System is a bi fuel, natural gas + diesel, conversion allowing higher natural gas substitution rates than those previously attainable on dynamic diesel engine applications.
The EVO-SP™ System was installed on a 1250 kWe Caterpillar 3512C engine and showed a diesel substitution rate in excess of 50%. Over the period of the test, it was shown that GFS Corp's new system could save the drill rig operator $30,000 to $40,000 per 19 day drilling cycle, a far greater savings than they had ever achieved with the conventional bi fuel system installed that the drilling operator had used prior to the GFS Corp tests.
The EVO-SP™ System is not just an improvement over conventional bi fuel conversion systems, but an entirely new approach to managing bi fuel under dynamic load conditions. Other systems map critical pre-alarm and shut down set points only at maximum load or at a few selected load profiles. The EVO-SP™ System incorporates Dynamic Setpoint Protection™ that maps critical setpoints continuously across the entire load range of the engine, safely allowing maximum gas substitution rates. This is accomplished by monitoring mass air flow using GFS Corp's new, proprietary, patent pending, mass air flow sensor technology. Other bi fuel systems adjust the fuel by reacting to changing load conditions, typically by using kWe transducers. By using mass air flow, the EVO-SP System anticipates load changes instead of reacting after the event has already taken place. The system also incorporates a touch screen display with a graphical user interface, an intelligent and fast engine control unit that monitors and responds to key engine sensors every 50 milliseconds, innovative air/gas mixers with fast acting, integrated throttle bodies, pre-assembled gas trains and plug and play wiring harnesses. All pre-tested at the factory.
"The EVO-SP System's advanced technology has conquered the difficulty with managing dynamic loads imposed by drilling and fracking operations. Operators can now maximize their diesel savings using this new, advanced bi-fuel technology", said Lanny Slater, GFS Corp's Director of Sales.
The EVO-SP™ System is the product of GFS Corp's previous experience converting large mine haul trucks to a natural gas plus diesel, NG+D, operation. The successes there in managing the dynamic loads encountered along with one of the harshest environments imaginable gave GFS Corp's engineers unique insight into new bi fuel methods and applications.
About Gaseous Fuel Systems (GFS Corp)
GFS Corp designs, manufactures and sells proprietary solutions that enable high horsepower, heavy duty diesel engines to operate on natural gas. The company's primary focus is providing fully integrated alternative fuel solutions for the mining, construction, stationary power and rail markets. For additional information, contact Kerry Hackney, Director of Marketing for GFS Corp at 954-693-9657 or visit the company's website at http://www.gfs-corp.com