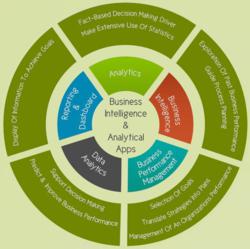 This infographic will help SMBs choose the right BI solution for their needs.
Barcelona, Spain (PRWEB) February 20, 2013
GetApp, the largest independent marketplace for business apps has released an infographic comparing the most important web-based business intelligence and analytics apps to help businesses choose the right product for their needs.
This business intelligence software infographic seeks to compare the most important business intelligence and analytical cloud applications in an attempt to ease the decision making process small and midsize businesses need to go through when deciding upon a BI solution.
It uses publicly available information to explain:

What are the different functions covered by business intelligence and analytical apps: Analytics, Business Intelligence, Business Performance Management, Data Analytics, Reporting & Dashboard
Which apps are best suited for experts, average users and newbies
How apps are categorized by functionality
Which ones integrate with main platforms such as Google Apps and Salesforce
Availability of a dedicated app for mobile platforms such as iOS and Android
"Businesses can collect nearly every single bit of data you can imagine, which can bring to light very powerful findings, but if you don´t have the right tools to convert this data into information that drives decision making, you´re still left with a bunch of numbers," said Christophe Primault, CEO of GetApp "This infographic will help SMBs choose the right BI solution for their needs."
The research carried out by GetApp highlights 10 of the most important solutions in this space including:
Birst, SAP BusinessObjects Mobile, Yellowfin, Zoho Reports, Tableau Software, Bime, Trackerbird Software Analytics, Jaspersoft BI Suite, Pentaho Business Analytics and Yurbi
To view the infographic online visit the following link:
The Most Important BI & Analytics Apps
To discover a more comprehensive list of business intelligence apps visit GetApp's online business intelligence software directory.
About GetApp
GetApp is the largest independent online marketplace that helps small to mid-sized businesses and startups discover, evaluate and manage the perfect cloud business apps for their needs. Its mission is to support millions of users in their "best app" research with comprehensive directories, interactive search tools, side-by-side comparison tables, user reviews and app evaluation resources.
In addition, GetApp serves as a global online marketing channel for thousands of cloud business application developers. GetApp operates primarily in North America and the U.K. It is privately owned and backed by Nauta Capital.
For additional information, visit http://www.getapp.com.