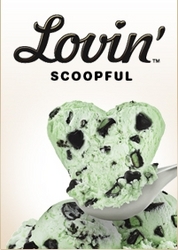 "We donate 25% of our profits to Special Olympics and appreciate the support our customers make in helping to raise the human spirit by enjoying Lovin' Scoopful"
Los Angeles, CA (PRWEB) November 9, 2010
When taking out your baking pans this holiday season, don't forget to take out the ice cream scooper too, so you can serve holiday guests some delicious Lovin' Scoopful light ice cream to go with your gourmet recipes.
To spice up the season and reward loyal customers, Lovin' Scoopful has come up with exclusive in-store promotions at retailers nationwide. West coast customers can buy 2 56-oz containers for only $7 at Ralphs, while customers in the South can purchase Lovin' Scoopful ice cream at Bi-Lo stores, where a buy 1 get 1 free (BOGO) promotion begins on November 8th and runs through the holidays. Inspired by unique recipes, Lovin' Scoopful has created a mouth watering selection of thirteen delicious ice cream flavors—all of which have 1/2 the fat and 1/3 the calories of regular premium ice cream. Flavors include Baba's Butter Pecan Brittle, What The Fudge and Oh My Blueberry Pie, fitting for any holiday sweet tooth as well as any diet.
"We hope that ice cream lovers will take this opportunity to try Lovin' Scoopful. Not only will they discover how delicious our gourmet light ice cream is but they can take satisfaction in knowing that their purchase is helping to put a smile on the faces of Special Olympians throughout the world. We donate 25% of our profits to Special Olympics and appreciate the support our customers make in helping to raise the human spirit by enjoying Lovin' Scoopful," said Dan Samson, CEO of Lovin' Scoopful.
In addition to supporting Special Olympics, Lovin' Scoopful has begun celebrating the season of giving by recently sponsoring this year's National Down Syndrome's Buddy Walks in local South Carolina communities. The brand is also proud of joining forces with four of Clear Channel Media's radio stations in South Carolina, as a sponsor of the annual Great Turkey Fry, providing Thanksgiving dinners to the less fortunate, and as the sponsor of the 5th annual Celebration of Lights Festival in South Carolina.
Lovin' Scoopful is currently available in thirteen flavors at many retailers nationwide. For a map and a full list of stores carrying Lovin' Scoopful ice cream, visit the brand's official website. Check local stores for more details on seasonal special offers, and to find out more about the Bi-Lo BOGO promotion by visiting Lovin' Scoopful's official Facebook page: http://www.facebook.com/lovinscoopful.
For markets not yet served, consumers are encouraged to request that Lovin' Scoopful be added to ice cream shelves of their favorite store, by simply asking the manager in charge.
ABOUT LOVIN' SCOOPFUL
Lovin' Scoopful is a premium ice cream company operating with the objective of making not only its customers happy, but making many others happy as well through significant contributions to causes that help empower the human spirit. Tim and Maria Shriver, Angelo Moratti and Dan Samson launched Lovin' Scoopful in 2008 with the intent of offering a high quality, fun and health-conscious product that would also serve as an ongoing source of revenue for worthy causes. Currently, the company is proud to donate 25% ($50,000 minimum annually) of its post-tax profits to Special Olympics. To get more product information, please visit: http://www.lovinscoopful.com.
ABOUT BI-LO:
Bi-Lo is a supermarket chain founded in 1964 by Frank L. Outlaw headquartered in Mauldin, South Carolina. It operates stores in the states of Georgia, North and South Carolina, and Tennessee. Bi-Lo's philosophy of having 'low prices, high quality and excellent service' is the key factor attracting and retaining customers. Bi-Lo is also well known for its involvement in the community, raising money to help provide support to over 400 charities a year. For more about Bi-Lo stores visit: http://my.bi-lo.com.
Dan Samson
Lovin' Scoopful
206.285.2573
dansamson(at)lovinbrands(dot)com
Mauricio Ramos
Fabric Interactive
213.380.0442
mauricio(at)fabricinteractive(dot)com
# # #