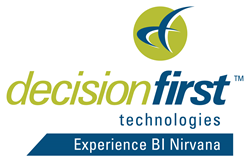 Within two weeks of Go-Live, TRCC identified product line inefficiencies that were costing the company thousands of dollars a day.
Atlanta, GA (PRWEB) June 19, 2014
Textile Rubber and Chemical Company (TRCC), an SAP® mid-market customer, recently transformed their Business Intelligence program with the help of Decision First Technologies (DFT), Enowa and SAP® HANA, debunking the myth that SAP HANA is primarily a large enterprise solution.
Utilizing DFT's BI Nirvana in 90 Days program and SAP® Business Suite on HANA, a migration performed with Enowa, TRCC not only identified product line inefficiencies costing the company thousands of dollars a day, but they also saw a four–to-six time improvement in reporting performance, a simplified IT landscape and a real-time, data analytic platform that allows for future growth. These powerful results caught the attention of SAP who awarded TRCC with a Trailblazer Innovator Award on June 3rd at SAPPHIRE NOW 2014.
"We are incredibly happy about the recent SAP award and the industry recognition it brings," remarks Bo Coppinger, Director of IT for TRCC. "DFT's BI Nirvana program really helped pave the way by providing a realistic roadmap for implementing real-time operational analysis within 90 days. DFT has the unique ability to understand the needs of business users, as well as a complete understanding of the functional capabilities of the SAP technologies, which is a critical factor for success."
Needing to maximize their SAP Business Suite on HANA platform, TRCC brought DFT in to deliver a custom dashboard allowing executives to quickly view KPIs for financial, sales and operational data. They also needed drill down capabilities that tied data discrepancies back to sales orders, work orders or accounting documents. This allows TRCC executives to make educated businesses decisions based on fact, not inferences as well as proactively monitor the health of their company.
These significant improvements are exactly what the SAP HANA Innovation Awards honor. Seeking companies who use SAP HANA to drive innovation and positively impact their workforce, partners, customers, and society, TRCC was honored with a Trailblazer award.
"TRCC's Trailblazer award is a nod to the significance of their BI transformation," remarks Steve Freeman, DFT's Vice President of Operations. "We are proud to have helped them find the right technology, the right process and the right people to bring about significant improvements in the way they define, view and utilize data. That's what our BI Nirvana in 90 Days program is all about, and it's why we continue to see tremendous customer success."
For more information, visit: http://info.decisionfirst.com/HANA-Site_TRCC.html.
About Decision First Technologies
A nationally recognized business intelligence authority, Decision First Technologies (DFT) delivers proven technical best practices and methodologies focused on user experience and adoption. An SAP gold channel partner and seven-time SAP BusinessObjects™ Solution Provider Partner of the Year, DFT has earned the respect of the BI community by providing proven SAP-based solutions for analytics, EIM, data warehousing, and the SAP HANA platform to over 1,000 customers globally. Our recognized thought leaders share their expertise through speaking events, industry publications and authoring books such as Implementing SAP HANA, a best-selling book from SAP Press. BI is not something we do, it's all we do.
For more information on Decision First Technologies, visit http://www.decisionfirst.com.
About Enowa Consulting
Enowa is an international SAP and business strategy consulting company with specific industry expertise whose offerings expand a wide-range from broad (Implementations to Application Support) to niche (HANA and Solution Manager). For more than a decade, Enowa has successfully implemented and improved its customers' SAP landscapes with defined deliverables and predictable, measurable results. Clients have called on Enowa experts who understand their business, communicate effectively and consider knowledge transfer part of their responsibility. Enowa's clients benefit by having access to a stable and consistent team year after year, project after project, making Enowa a trusted innovator for SAP Business Initiatives - definitelydifferent.
For more information, visit http://www.enowa.com.
©2014 Decision First Technologies. All rights reserved. Decision First and DFT are trademarks of Decision First Technologies. SAP, SAP HANA, SAP Business Suite and all SAP logos are trademarks or registered trademarks of SAP AG in Germany and in several other countries. Business Objects, BusinessObjects, and the Business Objects logo are trademarks or registered trademarks of Business Objects in the United States and/or other countries. Business Objects is an SAP company. All other products and company names are trademarks or registered trademarks of their respective owners.