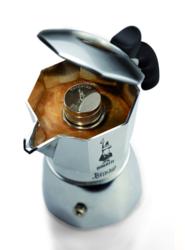 Rancho Cucamonga, Calif. (PRWEB) September 22, 2011
Bialetti, the leading Italian coffee and cookware brand, introduces the newly designed Brikka stovetop coffee maker. The Brikka is part of Bialetti's family of stovetop coffee makers, including the Moka, renowned for its iconic Italian design and noted so as a permanent collection of New York's Museum of Modern Art (MOMA).
The Brikka revolutionizes the espresso making and drinking experience because of its patented pressure-controlled valve that regulates just the right amount of pressure of water flowing through the coffee grounds to produce perfect froth, creating a richer-tasting coffee. The Brikka was redesigned with an opening in the lid to allow air circulation into the valve which creates the perfect "crema" (cream-like froth).
With the Brikka, everyone can enjoy authentic espresso with "crema" just like one from an Italian bar. The Brikka is available in 2-cup and 4-cup sizes starting at $54.95 at http://www.bialettishop.com or http://www.amazon.com.
About Bialetti:
Bialetti is an Italian brand of stove-top coffee makers and cookware products that's bringing a unique combination of current yet accessible Italian design and quality at every price point. Headquarted in Coccaglio, Italy, Bialetti puts a face on the modern Italian's unique approach to life, with a passion for all things good – style & design, food, friends, family and relaxation. Founded in 1933, Bialetti first came to market in Europe as the creator of the "Moka Express." Today, the company offers an Italian-inspired line of cookware, kitchen tools and gadgets, as well as its wide-range of stove-top coffee makers.
Bradshaw International, based in Rancho Cucamonga, Calif., is a leading marketer of kitchenware products and is the distributor for Bialetti USA.
For more information on Bialetti USA, please go to: http://www.bialetti.com or visit our Facebook page: http://www.facebook.com/bialettiusa.
# # #