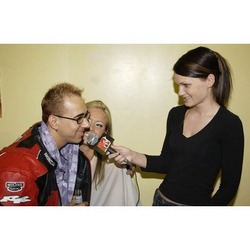 Entertainment is fashion and fashion will move you! Music is apart of your soul and your soul is bound to the temple of your body, Love it, BV on you!
Beverly Hills, CA (PRWEB) June 27, 2010
Bian Variani is at it again! On June 27th, 2010 Hip-Hop artist Robert Strawder aka 'Straw the Vegas Don' from Las Vegas, has signed onto "Label BV" which is Bian's newest record label. Straw is part of a growing list of BV's newest artists to sign on. They are currently in collaboration of creating another thrilling hit on top of Label BV's latest song 'BV on my Body.'
Robert V. Strawder Jr. has been in the entertainment industry for over 15 years. Known to his colleagues as Straw, he started the first black owned studio 'Sounds of Platinum Studio' in 1995. Straw has worked with various artists such as Alexander Oneal, Cherelle, Ike Turner Jr., Russel Simmons and also produced, mentored and overseen other artists known as Shock G, Mr. Cheeks, Spice 1 and many more. In 1999, Robert launched one of Las Vegas' most successful independent record labels, D-Blocc Records which landed him a multimillion dollar deal with IRiver MP3 Player. This joint venture featured Straw's single 'City to City' featuring Shock G of the legendary group Digital Underground on each MP3 player. Now he is recording hit after hit with his latest single 'Vegas Baby,' also available at http://www.bianvariani.com and also at http://www.myeventhub.com/variani
It seems that Bian is creating some controversy throughout the fashion world with his upcoming fashion tour with rumours speculating that he will be introduced to the fashion show while nailed to a burning cross. Rumours also mention that Bian Variani will be driving his Harley Davidson motorcycle on stage at some point during the show. This integration of Hip-Hop dancers, artists, and crazy stunts is nothing new for Fashion Designer Bian Variani. He only wishes to "top himself this time around with a full fledge affair of entertainment." The buzz around town is that Bian Variani has become the next Alexander McQueen as Bian's work is inspired by and made for celebrities. McQueen has dressed such people as Beyonce, Camilla Belle, Lily Cole, Olivia Wilde, Drew Barrymore, Naomi Campbell, Zoe Saldana, Kate Bosworth, Cate Blanchett, Lucy Liu, Ashlee Simpson, Liv Tyler, Anna Paquin, Nicole Kidman, Cameron Diaz, Rihanna, and Lady Gaga to name a few. The late Alexander McQueen recommended a few of his interns to Bian Variani while complimenting Bian's extravagant and outrageous performance on stage.
Now Bian is focusing his efforts on his record label, 'Label BV', and revolutionizing the fashion industry with the music industry. This new integration of fashion, music and entertainment approach has Bian quoting: "I always wanted to be a rock star but I could never play the guitar, so I became a fashion designer instead. Label BV is a new approach to fashion marketing, reaching a new level of demographics previously labeled for the niche fashionista market and now reaching the consumer through music/entertainment."
###