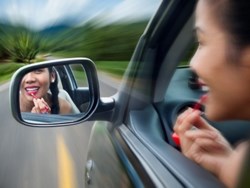 young driver's insurance premiums can drop by as much as £1000 when taking out a telematics policy
(PRWEB UK) 8 August 2012
A telematics insurance policy, which is often known as 'black box' or 'pay as you drive' insurance, involves a GPS tracker being installed in a motorist's car to track their driving behaviour. What the tracker records depends on the company that supplies the insurance policy. Typically, the factors that are recorded and analysed include the time of day at which a car is driven, the distance a car is driven and the speed at which a car is driven, and some can even track aggressive acceleration and deceleration.
Driving in a manner that is thought to be safe can result in discounts on insurance premiums for the driver, but similarly erratic or dangerous driving can also lead to premiums being increased. Telematics technology has received mixed reviews from critics with some referring to it as 'Big Brother' technology. However, the reported savings being made by drivers adopting this style of insurance have gone some way towards deflecting criticism in the last twelve months. BIBA has recently reported a fivefold increase in take-up of these policies during the last two years with nearly 200,000 drivers currently signed up – a positive indication that there are benefits to be had in taking out telematics car insurance.
Take-up of black box technology is spread across motorists of all age groups but clearly the dramatic price increases in young driver's car insurance of late make telematics an attractive option for new and inexperienced drivers who are looking to save money. The BIBA report confirms this claiming that in some cases young driver's insurance premiums can drop by as much as £1000 when taking out a telematics policy.
Tiger.co.uk, one of the UK's leading websites has long been an advocate of telematics adding its first telematics product to the panel back in October 2010. Andrew Goulborn Commercial Director at the comparison site commented: "We have been developing our telematics offering for some time and are pleased to see that BIBA's figures confirm that savings are being made by consumers taking out these policies. BIBA's figures clearly show that Telematics insurance is an excellent way for drivers, particularly young drivers, to save money on their car insurance. The increase in take-up implies that consumers are becoming more confident in these policies and more aware of the cost savings that can be made.Tiger.co.uk now has five telematics based products featured on the site and we intend to introduce many more in the future. With telematics technology evolving at such a rapid rate and more and more telematics products on offer this is an exciting time for the car insurance industry."
About Tiger.co.uk
Tiger.co.uk is a trading name of Call Connection Ltd. Tiger.co.uk is a UK based, independent price comparison site, offering insurance quotes from over 150 motor insurance brands. Call Connection Ltd is authorised and regulated by the Financial Services Authority (number 308374).