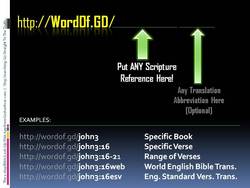 Stop Searching For Bible Verses & Go Straight To The Truth With WordOf.GD
Livingston, NJ (PRWEB) September 26, 2010
Have you ever tried to look up a specific translation of a Bible verse, but it wasn't available in your favorite Bible website? Bible readers can now get to the passage and translation they want in an instant with the launch of http://WordOf.GD. Before, users would need to know which Bible study site offered any given translation in order to find the correct version of Scripture they wanted. But this new URL shortcut service for Bible verses lets users create direct links to any Bible passage in any of 30+ translations on the fly.
The web app works in a single step using any web browser address bar. Users simply have to type in WordOf.Gd/ and the scripture verse or passage they are searching for. For example, http://wordof.gd/john3:16 would immediately bring up John 3:16 in the NIV (default translation offered) on a major Bible website. If the user wanted a specific translation, they just need to append the translation abbreviation to the end of the URL. So http://wordof.gd/john3:16WEB would bring up the World English Bible translation on a different website that offers that specific translation without any prerequisite knowledge of which website offers which translation.
The WordOf.GD Bible Linker also supports interlinear display when the URL includes either "HEBREW" or "GREEK" at the end of the url. For example, http://wordof.gd/john3.16GREEK would display the Greek interlinear text for John 3:16.
To make it as easy as possible for the end-user, the WordOf.GD Web App recognizes most common abbreviations for books of the Bible as well. e.g. Verses from the Book of Matthew could be indicated with "Matthew," "Matt," or even "Mt". Additionally, spaces and colons, typically not valid in URLs, are automatically converted to the appropriate characters on the fly.
Users will also appreciate links available in the small header bar above the final Bible passage display that allow users to immediately email or tweet the Bible passage being viewed using WordOf.GD. And if a user wanted to use a link elsewhere to that specific passage being viewed, they can easily copy/paste a properly formatted URL shortcut also presented in the header bar.
While other Bible URL shortcut services are usually restricted to a single Bible website's translation offerings, WordOf.GD offers users more translations since it forwards users to more than one Bible website based on the translation requested.
Pastors and ministry leaders can now create links to specific verses or passages on the fly in their emails, Facebook posts, or Twitter messages confidently without having to go to a Bible website, look-up the Scripture, copy the URL and use a URL shortening service like tinyurl.com or bit.ly. The advantage is time savings, URLs that won't break across multiple lines in some email readers, and easy to recognize URLs.
More translations are being added quarterly. "Spanish" is the latest addition to the various translations available. The current list of all translations and abbreviations is available at http://www.WordOf.Gd's homepage.
WordOf.GD is a web project of Godvertiser.com. http://www.Godvertiser.com is a resource site for pastors and ministry leaders who want to learn about effective church marketing in today's environment. It is published Kenny Jahng, founder and CEO of Big Click Syndicate LLC -- a strategic marketing and social media consultancy / coaching company based in New Jersey, USA. You can connect with Mr. Jahng at http://www.Godvertiser.com or via http://www.twitter.com/godvertiser.
# # #