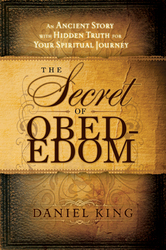 At the beginning of his life, Obed-Edom was disadvantaged. He was extremely poor, disenfranchised and known as a slave, but then he got hooked up to God's economic stimulus package and by the end of his life, he had wealth beyond his wildest dreams
Tulsa, OK (Vocus) August 27, 2009
Long before Washington D.C. announced a stimulus package, God provided for his followers. God's economic stimulus plan is revealed in Daniel King's new book, The Secret of Obed-Edom.
"At the beginning of his life, Obed-Edom was disadvantaged. He was extremely poor, disenfranchised and known as a slave, but then he got hooked up to God's economic stimulus package and by the end of his life, he had wealth beyond his wildest dreams," says Daniel King, the author of The Secret of Obed-Edom.
"Obed-Edom is the greatest undiscovered story in the Bible. Hardly anyone has ever heard of this obscure Bible character but his life story is so amazing that I think that everyone in America should read this book," says Daniel King, "Especially with the current economic crisis the secrets of Biblical success are now needed more then ever before."
"The Secret of Obed-Edom is really the secret to my own success," explains Daniel, "When I was young, my parents were extremely poor. We did not have a house so we actually lived in a school bus in a parking lot for six months. But, by the time I wrote this book, my office was near the top of a sixty-story skyscraper and from my office window I could see the parking lot my family used to live in. God brought me a long way and in my new book I reveal how God can do the same miracles for you."
The Secret of Obed-Edom will teach you how to activate God's plan for wealth creation in your life. Hidden in this book are the secrets of Godly promotion and how to achieve unprecedented wealth in your life. Order your copy today by calling: 1-877-431-4276.
About Daniel King
Daniel King is a missionary evangelist who has visited over fifty nations preaching the Gospel. His goal is to lead 1,000,000 people to Jesus every year! Learn more about his ministry by visiting: http://www.kingministries.com
Daniel & Jessica King
Missionary Evangelists
PO Box 701113
Tulsa, OK 74170
http://www.kingministries.com
918-851-5463
###