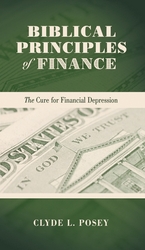 ends with God's retirement desires
Ruston, La. (Vocus) October 13, 2010
In today's challenging business climate, one person in 10 is unemployed, while countless others struggle to make mortgage and rent payments. Consumer confidence is at a very low ebb and a general sense of economic malaise is widespread. It's easy to become overwhelmed by the complex financial concepts affecting our daily lives, but in his accessible new book, Biblical Principles of Finance: The Cure for Financial Depression (published by WestBow Press), Dr. Clyde L. Posey offers simple, practical tips for improving finances using proven age-old principles from the Bible.
Carefully selecting information from 14 different translations and paraphrases of the Bible, Biblical Principles of Finance is a one-stop resource chock-full of information that is spiritually based but applicable to today's world. Posey outlines basic concepts, supported by examples from his own personal and professional experiences, which are accessible to readers from all walks of life, regardless of formal training or background.
Posey begins by stressing the importance of making the "perfect investment," one which provides amazing returns and "ends with God's retirement desires" for each individual. "This book is designed to lift people out of their personal financial depression and up to a much higher economic plane," Posey asserts. "Many detrimental financial decisions can be avoided or corrected from the applications available in this book."
Concise chapters outline basic financial concepts including investments, debt, credit, the decision to rent or buy and tax planning. Using a scriptural perspective, Biblical Principles of Finance illuminates these timeless principles and applies them to the 21st century.
Ideal for use in Bible study groups, as a textbook in a Christian college or just as a handy financial guide, Biblical Principles of Finance offers valuable advice while reminding readers to enjoy what they have and to always remember that the best things in life are free. Discover more in this unique new reference guide.
About the Author
Clyde L. Posey, Ph.D. is a Certified Public Accountant in two states and has taught as an assistant, through full professor at California State University, Fresno, Oklahoma State University, Central State University, Edmond, OK., the University of Oklahoma, Louisiana Tech University and Alcorn State University. He has been a Sunday school teacher and home Bible study leader for many years and has had articles published in numerous journals. Biblical Principles of Finance is his first published book.
About WestBow Press
WestBow Press is a strategic self-publishing alliance of Thomas Nelson, the world's premier Christian publisher, and Author Solutions, Inc. (ASI), the world leader in the fastest-growing segment of publishing. For more information, visit http://www.westbowpress.com.
###