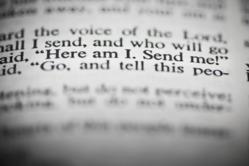 His sacrifice was a service to us all, and we should celebrate and show thanks for that sacrifice by following the example that Christ has set.
Baltimore, Maryland (PRWEB) December 19, 2012
Christmas is a holiday during which Christians celebrate the birth of Christ and all of the values for which he stood. Charity, love, generosity, kindness—these are all values that are synonymous with Christmas because they were embodied by Christ himself. But how accurate is today's reflection of Christmas when compared to the values for which it stands? Bible In My Language, a company that procures and distributes scriptures in virtually hundreds of tongues, considers the ways in which today's holiday season has become more a reflection of consumerism than charity, and how parents can help remind their kids that goodwill toward men is one of the key values that should be incorporated into their festivities.
In an article posted by The Guardian, Vicky Grinnell-Wright shares her insight regarding how consumerism has, in essence, hijacked the holiday season: "One short stroll down any high street will verify that it is not love that is around us, but stuff to buy. Retailers are clinging openly, vehemently to the hopes of a surge in high street spending and everywhere we look is encouragement to buy, wear, eat, drink, party more than we possibly could. We all know that despite finances for many people being very precarious, the message to consume is strong and influential and creates a whole wave of anxiety and pressure that for some is literally intolerable."
This portrait of the holiday season is a far cry from that which kids are taught to anticipate each year. Even the Christmas carols that are sung during shopping sprees were written to celebrate more virtuous ideas, such as charity and love. Pastor Chuck Heidenreich of Bible In My Language believes that, given society's efforts to turn Christmas into a veritable retail free for all, it is the responsibility of parents to teach their kids the true meaning of the holiday. Charity, he explains, is the best way to do so.
"Above all else, Jesus Christ taught that it is imperative that we serve our fellow man," Heidenreich states. "His sacrifice was a service to us all, and we should celebrate and show thanks for that sacrifice by following the example that Christ has set. In today's society, Christmas is celebrated with expensive gifts, maxed out credit cards, and the pleas of young children who want Santa to bring them the toys they have circled in catalogues or written about in letters to the North Pole. But this is not what Christmas is all about, and parents should encourage charity and other generous activities from a young age."
Heidenreich goes on to say that parents may find it easier to teach their children to celebrate the real spirit of Christmas by incorporating charitable activities into their festivities. For instance, he recommends having each child sacrifice one toy and, instead of unwrapping that present on Christmas morning, make a donation to a local non-profit organization. Additionally, he suggests that families might volunteer at a local charity together, or donate their gently used clothing and other items to those in need.
Ultimately, Heidenreich and the rest of the professionals at Bible In My Language hope that families are able to celebrate the love of Christ and the sacrifice that he made. Because of this sacrifice, mankind can hear the word of God and can, if they live a worthy life, live with Him again. The love and service that Christ showed to make this a possibility are incomprehensible and this, Heidenreich asserts, is the true meaning of Christmas.
Individuals who are interested in volunteering to help others in need this holiday season are encouraged to seek such opportunities through their religious organization or local non-profits. Those who are interested in learning more about Bible In My Language can visit the company's website at http://www.bibleinmylanguage.com.
ABOUT:
The owners of Bible In My Language are former missionaries and pastors. Bible In My Language is based in Baltimore, Maryland. Through their network of international contacts they now procure and distribute scriptures in 325 different languages, most of which are difficult to find in average bookstores and at religious retailers. Founded in 2000, the company focuses on providing Bibles in languages that are uncommon, such as African, Arabic, Aboriginal, and Indian dialects. While the organization has chosen not to concentrate on English and Spanish texts, it does offer scriptures in other common languages, including French, Hebrew, Hungarian, Norwegian, and German. The goal of the company is to allow God's children to read His word in their native language, which is much more meaningful for many of the fold.
For more information, visit http://www.bibleinmylanguage.com or call (443) 469-7501. Interested individuals are also encouraged to visit the company's Facebook page (https://www.facebook.com/BibleInMyLanguage) and YouTube channel (http://www.youtube.com/bibleinmylanguage).