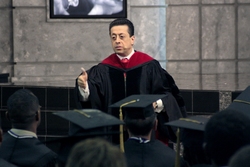 Pensacola, FL (PRWEB) July 27, 2009
The International Miracle Institute (IMI) will be hosting a worldwide celebration at the World Center. Almost 1000 students from around the world, and delegates from 84 countries, will connect this August. This is IMI's largest graduating class since its inception in 1994.
The single most growing phenomena in the world is the global hunger for Biblical Studies. The International Miracle Institute has met this demand and has successfully reached the world for the past 15 years. From the jungle villages of Asia, to Africa, to the remotest regions of Russia, students have brought IMI into underground churches all over the world. The lives that have been changed and saved--are innumerable. To date, 100,000 students have been trained through IMI. In the city of Pensacola, the entire world will be united via technology for a week-long event that will be broadcast worldwide.
Victory Summer Campmeeting and IMI Graduation will be held at the World Center, Sunday, August 2nd at 10:00 AM and 7:00PM, Monday August 3rd through Friday August 7th at 7:30 PM, Saturday August 8th at 10:30 AM and Sunday August 9th at 10:00 AM and 7:00 PM.
The newly renovated World Center is located at Miracle Faith Center.
Event Location Miracle Faith Center 4317 N. Palafox Street Pensacola, FL 32501 For information, accommodations or travel information, please visit http://www.globalrevival.com or call 1-888-526-4600.
###