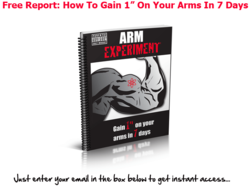 St. Petersburg, Fl (PRWEB) January 31, 2013
There is an arm workout finally available that will help anyone to shock their biceps into new growth. According to Ryan Magin from MuscleBuildingExpert.org he has found a ground breaking biceps workout formula that works to gain as much as 1 inch on the biceps in 1 week.
After years of struggling to gain muscle mass on his arms Ryan decided to try an experimental program that he developed after doing some careful research on how to get bigger arms. What Ryan came up with is a 3 day program done throughout the week that he now calls "The Arm Experiment".
The biceps workout is broken down into 3 phases that are done throughout the week. It includes a rhythm day that focuses on the bicep brachialis muscle, a heavy form day to stimulate high threshold motor units for extreme hypertrophy, and a controlled tempo day based off of principles he learned from IFBB Pro Bodybuilder Branch Warren and the legendary strength coach Charles Poliquin.
"This workout is no joke. Your arms will be sore. I recommend you do nothing else throughout the week except train your arms", said Ryan. He continued to say "Anymore then these 3 arm workouts and your nervous system will be taxed to the point of over training."
The Arm Experiment workout also includes the supplements he took throughout the week to help with recovery and to capitalize on the proper nutrient timing to ensure massive new growth in the biceps.
For a limited time Ryan has made this new arm workout available for free at http://musclebuildingexpert.org/arm-experiment.