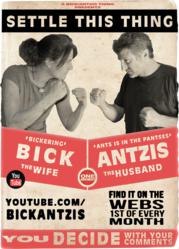 We'd have these little reaccuring arguments that just don't resolve. We figured why not ask the internet for help?
Los Angeles, California (PRWEB) May 01, 2013
Directing team BICK/ANTZIS, who specialize in branded and original Kick-Ass comedy for the web, launch an ongoing web series called Settle This Thing.
Ever wanted to be a Judge, but without the hassle of getting an advanced degree? Bick & Antzis, a married directing team, are looking for help in resolving some hilarious marital disputes. It's funny, less than 3 minutes long and there's swag!
Get Ready to Rumble! Diving deep into the dynamics of their relationship, they discuss topics from whether it's acceptable to wear socks with flip flops or shout out someone else's name during sex to when you're married, and should you be able to read your partner's mind?
When asked why they started doing this series - Bick explained, "We'd have these little reoccurring arguments that just don't resolve. We figured why not ask the internet for help?" Antzis pipes up, 'It's cheaper than therapy and easier too, just need a camera and an internet connection!'
Settle This Thing is a 'reality web series.' Each episode lays out an argument between Bick & Antzis. The viewer, with their comments, picks a side. At the end of the month votes are counted and a winner is announced. Winning votes go in a lottery to win some Kick-Ass swag.
Settle This Thing adds to a long list of successful web video's and series for BICK/ANTZIS. Including viral video sensation 'The Landlord' with Will Ferrell, a MoveOn.org PSA with Jon Hamm and Olivia Wilde, plus a bunch of other celebrity shorts totaling millions of hits on Funny or Die, with celeb's including Natalie Portman, Adam Scott, Jim Parsons, Snoop Dog and Fergie.
They created a 7 part web series for Whole Foods landing Ad of the Day in Adweek. Most recently they worked with Nike and The Jordon Brand on a video for Michael Jordon working with star athletes such as Tiger Woods, Wayne Gretzky, Scottie Pippen and Magic Johnson to name a few.
About BICK/ANTZIS - Antzis,'We talk about things, we each bring our ideas to the table...and then we do whatever Tamara wants!' They both laugh, Tamara adding, 'It's just important to remember that I'm always right!' Separately BICK & ANTZIS have worked for prestigious companies all over the country including HBO, Comedy Central and Second City and travelled to Edinborough, London, New York, Aspen and Toronto performing comedy. They joined forces and have been specializing in branded and original comedy for the web for over three years. Visit bickantzis.com for a complete list of all past productions and present projects.