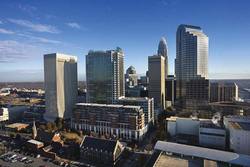 Charlotte, NC (PRWEB) September 22, 2009
BidClerk, the Construction Industry Search Engine, reported today that the following building projects are planning to go out for bids or start construction in the next 90 days in the Charlotte, NC Metro Area. Businesses interested in providing services relative to these projects should visit http://www.BidClerk.com and reference the Project ID listed below to obtain direct contact information for each job:
Charlotte, NC - Buffalo Wings & Rings, 16175 Orchard Stone Run, 4,854-square-foot restaurant tenant improvement, November 2009, $300,000. Project ID : 1066268
Charlotte, NC - Wal-Mart #1464, 2180 South Tryon St., 210,022-square-foot national chain big box renovation, December 2009, $5 million. Project ID : 1064558
Charlotte, NC - Furniture Row, 8215 Ikea Blvd., 69,773-square-foot retail facility, October 2009, $6 million. Project ID : 1052360
Charlotte, NC - Lance Headquarters, 8600 South Blvd., 37,707-square-foot office tenant improvement, October 2009, $2 million. Project ID : 1011951
Charlotte, NC - St. Stephenson Pentecostal Church - Site Work, 3656 Beatties Ford Road, site work on .56 acres to make way for a 1,500-square-foot church, October 2009, $30,000. Project ID : 1065439
About BidClerk.com
BidClerk.com is the only Search Engine dedicated to providing businesses with in depth information on thousands of construction projects coming up for bid all throughout the United States. Our daily updates of commercial and residential construction projects are available to contractors, subcontractors, general contractors and businesses in related industries that are seeking bid opportunities. For more information on bidding construction projects in your area, visit BidClerk online or call 877-737-6482.
###