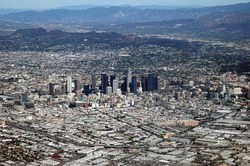 Los Angeles, CA (PRWEB) March 16, 2009
BidClerk, the Construction Industry Search Engine, reported today that the following building projects are planning to go out for bids or start construction in the next 90 days in the Los Angeles, CA Metro Area. Businesses interested in providing services relative to these projects should visit http://www.BidClerk.com and reference the Project ID listed below to obtain direct contact information for each job:
Los Angeles, CA - USC - Fluor and Pardee Hall Lobby Renovations, 3551 Trousdale Pkwy., dormitory lobby renovations, May 2009, $500,000. Project ID : 940855
Covina, CA - Aurora Behavior Health Care Facility, 1161 E. Covina Blvd., 14,600-square-foot psychiatric facility, April 2009, $2.9 million. Project ID : 940691
Los Angeles, CA - Denny's, 4760 E. Cesar Chavez Road, 6,500-square-foot restaurant fit-out, April 2009, $100,000. Project ID : 927914
Los Angeles, CA - Yoshinoya Beef Bowl, Vermont Avenue and Slauson Avenue, restaurant fit-out, April 2009, $100,000. Project ID : 939808
West Covina, CA - St. Paul Excelsior Academy Addition, 1420 S. Glendora Ave., 1,003-square-foot church addition, May 2009, $100,000. Project ID : 901095
About BidClerk.com
BidClerk.com is the only Search Engine dedicated to providing businesses with in depth information on thousands of construction projects coming up for bid all throughout the United States. Our daily updates of commercial and residential construction projects are available to construction contractors, general contractors, and subcontractors and businesses in related industries that are seeking bid opportunities. For more information on bidding construction projects in your area, visit BidClerk online or call 877-737-6482.
###