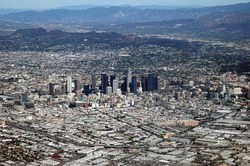 Los Angeles, CA (PRWEB) April 15, 2009
BidClerk, the Construction Industry Search Engine, reported today that the following building projects are planning to go out for bids or start construction in the next 90 days in the Los Angeles, CA metro area. Businesses interested in providing services relative to these projects should visit http://www.BidClerk.com and reference the Project ID listed below to obtain direct contact information for each job:
Mission Hills, CA - Providence Holy Cross Medical Center Expansion, 15031 Rinaldi St., hospital expansion, June 2009, $20 million. Project ID : 334257
Anaheim, CA - Ruby's Diner, 1128 W. Lincoln Ave., restaurant build-out, May 2009, $100,000. Project ID : 961143
Redondo Beach, CA - Redondo Pier Inn, 206 S. Pacific Coast Hwy., hotel renovations, April 2009, $10,000. Project ID : 957259
Glendale, CA - Vassar City Lights, 3685 San Fernando Road, 72-unit affordable apartment building, May2009, $8 million. Project ID : 960261
Rowland Heights, CA - Walgreens #09845, 18330 Colima Road, 13,000-square-foot retail development, May 2009, $1 million. Project ID : 858353
About BidClerk.com
BidClerk.com is the only Search Engine dedicated to providing businesses with in depth information on thousands of construction projects coming up for bid all throughout the United States. Our daily updates of commercial and residential construction projects are available to contractors, general contractors, subcontractors and businesses in related industries that are seeking bid opportunities. For more information on bidding construction projects in your area, visit BidClerk online or call 877-737-6482.
###