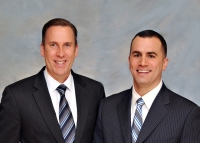 If it's a popular price point, within a given town and you've got a decent size buyer pool, you're going to see multiple offers.
Waltham, MA (PRWEB) April 04, 2012
Bidding wars are coming back, according to McGeough Lamacchia Realty, a situation that hasn't occurred in the real estate market since 2005. John McGeough and Anthony Lamacchia, co-brokers/owners of McGeough Lamacchia Realty, discussed some of the reasons for the sudden spike in bidding wars on homes on Fox25 News in Boston Monday.
Many buyers think because of the economic downturn they can get a bargain basement deal, and are surprised they have to compete with other buyers to get the home.
"If it's a popular price point, within a given town and you've got a decent size buyer pool, you're going to see multiple offers," says John McGeough.
There has been an uptick in interest for homes that appeal to both a broad range of buyers and are priced right. McGeough says they're even calling them "multiple offer Mondays" because after home buyers view the home on the weekend they're ready to make an offer right away.
"These homes weren't underpriced, they were good homes priced according to the market value of comparative properties in the area," says Anthony Lamacchia.
McGeough Lamacchia Realty report that there was increased activity in home sales for February, which was up 19% over February 2011, and average home selling prices actually increased for some Massachusetts counties such as Essex and Suffolk.
Lamacchia says a popular price point for first time home buyers tends to be anywhere from $250,000 to $450,000.
There are several trends fueling this spike in bidding wars:
New England enjoyed a relatively mild winter this year, which encouraged more buyers to view homes and more sellers to think about relocating. Low mortgage interest rates, which still hover around 4%, continue to attract more buyers. The unemployment rate in Massachusetts is 6.9%, well below the national average of 8.3%, which is another factor fueling this trend.
A decrease in the supply of homes combined with an increase in demand has also contributed to the fierce competition. The U.S. Census Bureau reported last month that The U.S. inventory of new homes stood at 150,000, a 5.8- month supply, which is the lowest inventory rate in 6 years.
McGeough and Lamacchia say there's no doubt this is a great time to buy a home, even with increased competition from other buyers. McGeough and Lamacchia advise home buyers should be ready to pay the asking price or more if a home is priced accordingly and also advise homeowners interested in selling to price their home aggressively.
About McGeough Lamacchia Realty:
McGeough Lamacchia Realty is the number one Real Estate Agency in Massachusetts and named one of the Top 100 Real Estate Teams by the Wall Street Journal in 2010. They are a full service real estate agency serving Massachusetts and New Hampshire.
For more on this story, visit the New England Real Estate Blog.