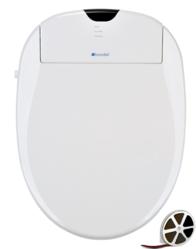 (PRWEB) August 17, 2012
Bidets Plus now offers the finest bidet available anywhere in the world. The utmost in comfort and convenience comes with Brondell's new Swash 1000 bidet seat. This is by far the best toilet bidet available, with features rarely found in any other bidet. Bidets Plus is proud to offer this excellent product. Why cleanse with harsh and irritating toilet paper when an efficient water-based system produces better results with gentle spray?
Hemorrhoid sufferers, new mothers and those recovering from surgery will especially appreciate the sanitary and comfortable bidet. They can adjust water temperature and pressure, nozzle position and pulsation to personal preference. Warm air drying completes the process. Parents of small children will appreciate the feature that lets them sit on the cover without risking damage to the unit. This provides a convenient and comfortable place where they can watch children bathe and play in the tub. Another great safety feature is the slow-closing lid that prevents accidental injury. Never again experience the shock of a cold toilet seat on a wintry morning. This affordable Japanese toilet bidet gently warms the seat for the ultimate in comfort.
Remote controls allow the individual to relax and let the bidet perform all the work. The electric bidet seat is always sanitary and convenient. People with limited use of the hands and arms no longer need to worry about embarrassment. The bidet provides sanitary hands-free cleansing with no need for assistance from helpers. The eco-friendly power-saving mode and paperless operation make this the best choice for environmentally-aware consumers. Thousands of trees are sacrificed each year just to make toilet paper. The process also wastes large amounts of water and energy. The paperless bidet cleansing system enables consumers to avoid this wasteful use of resources.
The Swash tankless water-heating system further enhances the environmental benefits of this product. Installation could not be easier. The Brondell Swash 1000 readily attaches to the existing toilet seat. An easy-to-follow manual explains how to quickly access every feature of this advanced system. The three-year warranty ensures customer satisfaction that lasts.
Unique features of the Brondell Swash 1000 bidet seat include:

Stainless steel nozzles that are self-cleaning and durable
Two nozzles, one for posterior and one for front female sanitation
Adjustable temperature, nozzle position and water pressure
Aerated and purified water stream
Water pulsation for massage cleaning
Warm-air drying and warm toilet seat
Charcoal-filtration system for air purification and odor-free operation
Wireless remote control
Bidets Plus is an online site that specializes in selling the most up-to-date electric bidets. This website provides extensive education to the public on the benefits and use of the bidet for personal hygiene. The Swash 1000 is just the latest in their line of quality products.