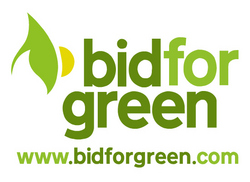 We will put them in touch with our quality suppliers. If they need help and training, that's available as well.
Crane, MO (PRWEB) May 9, 2008
BidForGreen, a well-known biodiesel logistics company, has announced that its on-line green auction site is ready for business at http://www.bidforgreen.com .
"We are excited about our ability to match buyers interested in using biodiesel and other green products to quality sellers who can provide them with excellent service," BidForGreen President Dale Wiley said. "We have been able to provide quality biodiesel to some of the biggest names in show business, and we intend to expand that to schools and businesses all over the nation."
BidForGreen provides logistical support to music tours , such as Willie Nelson, Styx and Brett Dennen, and for movie and television production companies, such as NBC Universal and the TV show CSI. The company provides educational services, and focuses on making sure that suppliers are qualified under both ASTM and the BQ-9000 standard. "Many people in our industry take a list that they find on the internet and accept that as quality," said Wiley. "Our process includes pre-qualification, continued monitoring, and even site visits." When fuel is questionable, vehicles are re-routed or otherwise re-supplied.
Because of their music touring base, BidForGreen launched an on-line trading version. Quality remains the focus. While anyone can be a "buyer" on the site, only pre-qualified companies will be able to offer biodiesel for sale. "We have a large network of qualified partners," said Wiley. "We will be able to help customers make the switch."
The hallmark of the BidForGreen trading site is a "Wanted" section. "We want people to tell us what their needs are with biodiesel," said Wiley. "We will put them in touch with our quality suppliers. If they need help and training, that's available as well."
BidForGreen also provides quality green content on the site as well, with blogs from the likes of Tommy Shaw of Styx, Tony Jones and Dallas star Larry Hagman, industry views, and a video section.
BidForGreen has operations in Missouri, California, Connecticut and Texas. For more information, contact Dale Wiley or Robert Wood at (417) 723-0301 or dale @ americangreenholdings.com.
# # #