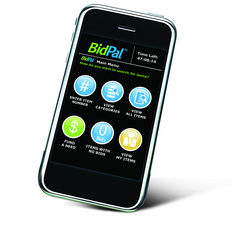 Our guests had fun using BidPal and loved being able to continue bidding while enjoying dinner with their friends.
Indianapolis, IN (PRWEB) March 26, 2010
A revolution is stirring in the world of charitable fundraising. Non-profits across the country are reporting significantly higher profits at their charitable events with substantially less administrative work. The key? Automation. Since 2008 BidPal Network has been making charitable auctions more profitable and more fun by wirelessly automating the bidding process and auction wrap-up.
The brainchild of a frequent attendee of charitable fundraisers who was tired of constantly returning to the silent auction area to check on his bids, BidPal eliminates this "pain point" by providing intelligent handheld bidding devices to partygoers. Pre-loaded with every auction item, including description, value, bid increments, photo, and donor information, the iPod Touch devices allow guests to bid from anywhere at any time during the event.
"The 2010 Muscle Team auction was a success, in large part due to BidPal. Not only did it help our totals, but it allowed for an easy, smooth check-out process for our guests and created an exciting buzz during the event and for weeks afterwards," said Emily Newberry, director of business development, Muscular Dystrophy Association NYC.
The BidPal device continually updates guests with the highest current bids, generating competitive bidding and increasing funds raised. Charitable organizations that use BidPal report, on average, three times more bids per item compared to previous years.
BidPal also opens up additional revenue streams. A "Fund a Need" button on the handheld device allows event attendees to make a cash donation on the spot, while advertising space on the devices and on the BidPal Leaderboard creates sponsorship opportunities for the organization.
"Our guests had fun using BidPal and loved being able to continue bidding while enjoying dinner with their friends," said Dana Curish, executive director of Susan G. Komen for the Cure Indianapolis. "We raised more money than ever before with our silent auction and for the first time offered a 'Fund a Need' option at the end of the program that was very successful!"
BidPal eliminates paper bid sheets, costly item catalogs, and the check-out scramble. Gone are the days of furiously picking up bid sheets at the close of the auction. BidPal automatically notifies winners of what they've won and how to check out, while an instant check-out report categorizes each bidder's items for event organizers. Detailed post-event reports summarize the event to help staff and volunteers plan their next silent auction. Reports include full item and bidder analysis, Fund a Need and VIP donors, proceeds by category, and items with no bids.
"We were thrilled to be the first in the D.C. area to use BidPal, and it performed beautifully! We particularly loved the Leaderboard, which kept us apprised of how much was being raised. Our crowd loved it, and the system drove almost three times more bids than our previous events," said Allison Coles, state director of Best Buddies Virginia.
BidPal is currently available in the Indianapolis, Chicago, New York, Los Angeles, Washington, D.C., Cleveland, Minneapolis, Atlanta, and Florida markets. The Indianapolis-based company plans to expand into all U.S. markets by 2011.
About BidPal Network
BidPal Network improves charitable fundraising by wirelessly automating the auction bidding process. BidPal's handheld bidding devices use iPod Touch technology—eliminating paper bid sheets and costly item catalogs, while making bidding easy and exciting for guests. Because guests can bid on auction items from anywhere at any time, charitable organizations greatly increase the number of bids per item. Pre-event consulting, real-time monitoring of auction proceeds, no-hassle checkouts, and immediate post-event reporting are just a few ways that BidPal is revolutionizing charitable fundraising. To learn more, visit http://www.BidPalNetwork.com or call 888-729-0399.
###