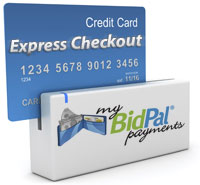 We listened to their needs and have responded with a payment solution they can hold in the palm of their hand.
Indianapolis (PRWEB) June 27, 2011
BidPal Network, the handheld bidding device company that is revolutionizing charitable fundraising, now offers fully integrated, secure payment processing. myBidPal Payments™ provides guests at charity events a fast, easy Express Checkout experience.
"We are pleased to provide a unique, uniform checkout process for our non-profit clients. We listened to their needs and have responded with a payment solution they can hold in the palm of their hand," said BidPal Network Chairman and CEO Scott Webber.
Charities may choose one or all of BidPal's payment solutions to offer guests flexible payment options such as pre-swiping a credit card or instantly checking out using their BidPal device. myBidPal Payments™ can be used for any transaction including ticket sales, donations, and silent and live auctions. All credit card data is securely stored.
SmartPay™ Cashier Terminal
The SmartPay™ Cashier Terminal allows organizations to register guests for Express Checkout and automatically charge credit cards after the event. Pre-swiping a credit card lets guests skip the payment line and proceed directly to the item pick up area.
With BidPal, results are tallied instantly—there is no need to synchronize credit card terminals with the event management system or to manually enter winning bidder information. The SmartPay™ Cashier Terminal works with all major credit cards.
Mobile Wallet™ Express Checkout
Mobile Wallet™ Express Checkout lets guests check out using their BidPal handheld device. At auction end, guests may securely enter their credit card information via their BidPal device if they did not pre-swipe a credit card at registration. An electronic receipt is instantly delivered to the guest's preferred email address.
Item Pick Up Assistant
The Item Pickup Assistant gives event staff instant payment confirmation on their BidPal device by allowing access to guests' payment status and items won. Guests with a balance due may pay via Mobile Wallet™ Express Checkout or the SmartPay™ Cashier Terminal.
SmartPay™ Virtual Terminal
Event organizers may view payment status, credits, and refunds; enter additional sales; manage declined transactions; and re-submit payments via a secure, SSL-enabled website. The terminal also offers a snapshot analysis of payment processing and robust reporting and analytics.
For more information about myBidPal Payments™ visit the Solutions & Services section of http://www.BidPalNetwork.com.
BidPal is currently available in the Atlanta, Chicago, Cincinnati, Dallas–Fort Worth, Indianapolis, Los Angeles, Louisville, Miami, Minneapolis, Naples, New York, Orlando, Philadelphia, Raleigh, San Diego, San Francisco, Tampa, and Washington, D.C., markets. The Indianapolis-based company plans to expand into all U.S. markets by the end of the year.
About BidPal Network
BidPal Network improves charitable fundraising by wirelessly automating auction bidding, donations, and payments. BidPal's handheld bidding devices eliminate paper bid sheets, while making bidding easy and exciting for guests. Because guests can bid from anywhere at any time, organizations greatly increase the number of bids per item. Comprehensive event management, real-time monitoring of auction proceeds, no-hassle express checkouts, and post-event reporting are just a few ways that BidPal is revolutionizing charitable fundraising. Visit http://www.bidpalnetwork.com or call 1-888-729-0399.
# # #