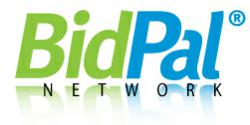 We are excited to provide our guests with an even richer bidding experience with the Smartphone option.
Indianapolis (PRWEB) October 21, 2011
BidPal Network, the leading fundraising technology company, now offers a Smartphone option that allows guests at charitable events to bid and donate using their own mobile phone.
BidPal's Smartphone connection offers a superior experience over similar auction technology products because BidPal is operated entirely on a closed wireless network. There is no delay in bidding, no service interruptions and no text messaging fees. Guests need only connect to the BidPal WIFI network and enter their bidder number to have full access to the silent auction, to preview live auction items and to donate to the charity.
"BidPal delivers a superior electronic bidding system that captures guests' attention and leads to a competitive bidding frenzy. We are excited to provide our guests with an even richer bidding experience with the Smartphone option," said BidPal Network VP, Product & Technology, Rachel Clark.
At event registration guests are offered a BidPal device or the opportunity to connect to the auction via their iPhone or Android mobile phone. With a few quick clicks guests are ready to start bidding on the BidPal WIFI network while using their 3G or 4G network for phone calls and email.
Nearly half of all Americans now own a Smartphone, and the percentage is even higher among attendees of fundraising galas.
Smartphone connectivity is the third product offering BidPal has released in the last five months. In August, BidPal launched a full event management software platform called myBidPal Planner Pro™. In June, BidPal introduced a fully integrated, secure payment processing solution.
BidPal is currently available in the Atlanta, Boston, Chicago, Cincinnati, Dallas–Fort Worth, Indianapolis, Los Angeles, Louisville, Miami, Minneapolis, Naples, New York, Orlando, Philadelphia, Phoenix, Raleigh, San Diego, San Francisco, Seattle, Tampa, and Washington, D.C., markets. The Indianapolis-based company plans to expand into all major U.S. markets by the end of 2012.
About BidPal Network
BidPal Network improves charitable fundraising by wirelessly automating auction bidding, donations and payments. BidPal's handheld bidding devices eliminate paper bid sheets, while making bidding easy and exciting for guests. Because guests can bid from anywhere at any time, organizations greatly increase the number of bids per item. Comprehensive event management, real-time monitoring of auction proceeds, no-hassle express checkouts, and post-event reporting are just a few ways that BidPal is revolutionizing charitable fundraising. Visit http://www.BidPalNetwork.com or call 1-888-729-0399.
###