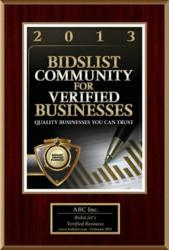 "I created BidsList in order to help prevent unlicensed contractor activity, decrease fraudulent freelancers, and offer peace of mind for consumers with specific needs. "Said Derick Downs, CEO of BidsList.com
San Diego, CA (PRWEB) February 20, 2013
BidsList creates a new process to verify quality freelancers and licensed professionals for the purpose of providing consumers with an exclusive directory of validated businesses.
BidsList is a company striving to make a positive difference for consumers in an unstable economic time. Their goal is to provide the ultimate resource for services that are reliable and fairly priced. BidsList has created a verification process that businesses, freelancers, and contractors must pass in order to be admitted into their community. The payoff for them is access to consumers in need of their services as well as an authentic certificate BidsList presents to each verified business after a successful verification screening is approved.
BidsList was established in San Diego and has done exceedingly well there. Now the company is expanding its boundaries to the rest of the United States. The company is relatively new, but it is an up and coming business that offers consumers access to services in various industry fields.
Essentially, the way BidsList works is that consumers are able to post all types of projects through the portal for various vendors and service providers to bid on. This not only gives the consumer the opportunity to get free estimates for the services they need, but it also provides a stable and secure marketplace for businesses operating in various industries to offer their services.
Naturally, it is important that BidsList is able to assure that the members of their community are legitimate, experienced, and trustworthy. The company has established an entirely new system of verification that all freelancers, businesses, and contractors must pass in order to be considered a verified business. Freelancers active on other portals with excellent records can also be considered for membership. BidsList is the first company to create a verification process for online freelancers.
Currently it is possible for consumers to find professionals to do a large number of services through BidsList, ranging from construction projects to online marketing projects. Business owners and freelancers will be happy to discover that BidsList offers several types of membership levels. Currently the company offers three membership tiers ranging in price from a mere $3.33 to $5.00 a month. All businesses looking to bid on projects must also pay a one-time fee for a verification screening before being listed in the BidsList directory.
As BidsList expands further into the thriving online marketplace, their goal is to continue to add categories of service industries. These would include restaurants, real estate agents, attorneys and many other types of businesses that consumers are on the lookout for.
Ultimately, this company offers a service that is as valuable to consumers as it is to businesses and freelancers. The economy has made the business market extremely competitive and it is becoming more and more difficult for consumers to find reliable resources. BidsList provides a space where business can go on as usual, without all of the uncertainties associated with other online resources.
Businesses interested in becoming verified BidsList members should visit BidsList.com and take advantage of the service BidsList is offering.
Contact: BidsList
Address: 10531 4S Commons Drive #512, San Diego, CA 92127
Phone: 866-937-0007
E-mail: info(at)bidslist(dot)com
Website: http://www.bidslist.com