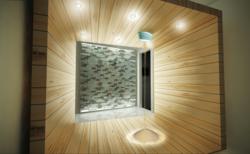 What happened next exceeded our expectations because I believe the way an artist interprets a concept is different from the way an architect does and the Ringling students added valuable depth, energy and insight to the project.
Venice, Italy and Sarasota, FL (PRWEB) August 27, 2012
Sweet Sparkman Architects and Ringling College of Art and Design today presented their joint conceptual architectural exhibit - 'ORIGINS' - at the 13th International Architecture Exhibition of la Biennale di Venezia at the Palazzo Bembo in Venice, Italy. Previewing for the media on August 27 and 28 and open to the public from August 29 to November 25, the 'ORIGINS' exhibit was created by Sarasota architects Jerry Sparkman, and Todd Sweet and a multidisciplinary team of Ringling College of Art and Design students, staff, and alumni.
'ORIGINS' builds upon the overall Biennale theme of 'Common Ground' and explores how design is significantly influenced by understanding of place and the context of a unique natural material-the pure quartz sand of Siesta Key. The exhibit features a sand waterfall, which flows from the ceiling via a hand cast glass vitrine, along with a 10' x 10' hand-cast glass block wall.
"The 99% pure quartz of Siesta Key sand both originated in Appalachian mountains and over hundreds of millions of years was refined to become our 'Common Ground,' and the unique qualities of this material influence and inspire our work," said Jerry Sparkman, AIA NCARB, of Sweet Sparkman Architects. "When our firm was invited to present a concept for Biennale, I approached Larry Thompson of Ringling College to partner with us on the project. Larry embraced the idea immediately and with Christine Lange as project manager hand-picked six students to work with us conceptualizing and designing 'Origins' as well as providing staff, logistic and studio support."
"What happened next exceeded our expectations because I believe the way an artist interprets a concept is different from the way an architect does and the Ringling students added valuable depth, energy and insight to the project. We are delighted that we had access to some of the world-class talent at Ringling and we were able to share this experience with their students," concluded Mr. Sparkman.
"Needless to say, when Jerry Sparkman approached us with this unusual project-based learning opportunity that culminates in a prestigious international exhibition, we jumped on board with great enthusiasm," said Ringling College of Art and Design president Dr. Larry R. Thompson. "With the Biennale alternating annually between Art and Architecture this partnership presented an opportunity to blend the creative disciplines of our Ringling students with the architectural expertise of Sweet Sparkman. Together they created a truly distinctive exhibit that reflects Sweet Sparkman's dedication to incorporating the materials and influence of the environment into their designs."
Rene Reitmeyer, the Dutch artist and curator for the Palazzo Bembo Biennale exhibits was intrigued with Sweet Sparkman's 'Casey Key Beach House' design and Jerry Sparkman's selection as an artist in residence at the Conservation Foundation of the Gulf Coast. Rene has spent time in Sarasota and in fact has incorporated Siesta Key sand into some of his own work, all of which ultimately lead to the Biennale committee inviting Sweet Sparkman to present a concept proposal in January of 2012.
'ORIGINS' received significant support from organizations in Sarasota, including Gulf Coast Community Foundation, Conservation Foundation of the Gulf Coast, Visit Sarasota County and the Sarasota County Commissioners and Parks and Recreation, which allowed the team to borrow and ship one ton of Siesta Key sand to Venice for the installation. 'Dr. Beach' named Siesta Key the best beach in America in 2011 due in part to the fact that "the powdery sand is nearly pure quartz crystal."
Ringling College student team members include Business of Art & Design 2012 graduate Mari Garman and 2012-2013 Trustee Scholar Agneta Ramoskaite; Fine Arts seniors Diana Lueken and Devon Keene; 2012-2013 Trustee Scholar for Student Life and Interior Design senior Dehne Sibbernsen; Motion Design sophomore Jason Beale and Photography & Digital Imaging sophomore Jackson Petty.
Additionally, Mark Humphrey, a Ringling 2004 Fine Arts graduate, supervised the glass casting fabrication process; and Ringling 1979 Illustration graduate Scott Hamblin acted as the installation consultant. His company, the Resource Factory, created the mounting system for the glass wall and the vitrine and oversaw installation of the exhibit at Biennale.
The spirit of collaboration on this project ran throughout the Sarasota community, with the Englewood Art Center and Director KC Bitterman providing the pottery studio and Pottery Instructor Pat Kelly overseeing the creation of the ceramic molds for the glass block casting; Willis A. Smith Construction, Inc. soliciting donations from Key Glass for materials, and the Sarasota School of Glass firing the 747 individual glass blocks to create the wall.
"I am proud to have been part of the student team for this once in a lifetime opportunity," said Agneta Ramoskaite, Ringling Business of Art & Design senior and 2012/2013 Ringling Trustee Scholar. "To be involved from initial conceptualization to design to creation to final installation at the Venice Biennale has been an experience I will never forget. Above and beyond the joy of being truly engaged in the creative process, the project management and business skills we have acquired through handling the logistics of this enterprise are going to serve us all well as our futures unfold."
The 'ORIGINS' exhibition is open to the public at the BIENNALE ARCHITETTURA 2012 from August 29 to November 25, 2012 at the Palazzo Bembo, located at 4793 Riva del Carbon, 30124 Venice, Italy, approximately 70 meters from the Rialto Bridge on the Grand Canal. More than 40,000 visitors are expected to tour the 'ORIGINS' exhibit.
About Sweet Sparkman
Sweet Sparkman Architects is a multi-disciplinary architecture and planning firm specializing in community oriented projects. Principals, Todd Sweet AIA, LEED and Jerry Sparkman, AIA NCARB bring a combined 40 years experience of architecture and planning, including large mixed-use projects, corporate building projects, public sector work, civic and community projects. Sweet Sparkman Architects received AIA awards and national and international design industry recognition for a wide range of projects including private residences, office retail complexes, fire stations, park pavilions, and even a barn/music studio. For more information visit http://www.sweetsparkman.com.
About Ringling College
Ringling College of Art and Design is a private, not-for-profit, fully accredited college offering the Bachelors of Fine Arts degree in 13 disciplines: Advertising Design, Computer Animation, Digital Film-making, Fine Arts, Game Art & Design, Graphic & Interactive Communication, Illustration, Interior Design, Motion Design, Painting, Photography & Digital Imaging, Printmaking, and Sculpture, and a Bachelor of Arts degree in the Business of Art & Design. Located in Sarasota on Florida's Gulf Coast, the picturesque 48-acre campus now includes more than 110 buildings, and enrolls 1,368 students from 42 states and 53 countries. It is recognized as being among the best and most innovative visual arts colleges in the United States as well as a leader in the use of technology in the arts. http://www.Ringling.edu