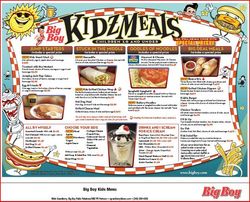 Kids have always loved Big Boy and we love their enthusiasm.
Warren, Mich. (PRWEB) July 18, 2008
For decades, Big Boy has been a favorite mealtime destination for children wanting good food and good fun. "The Boy's" brand new kids menu, coming July 14, gives his littlest customers a new twist on all the food and fun they love and their parents all the quality and value they've come to expect of Big Boy.
"It wasn't so long ago that the parents bringing their children to Big Boy today were children themselves, asking their parents to take them to Big Boy," said Tony Michaels, CEO, Big Boy Restaurants International LLC. "Kids have always loved Big Boy and we love their enthusiasm."
A bright, cheerful placemat-style menu replaces the comic book theme of the old menu and for the first time, features full-color photos of several entrees. Different games and puzzles will alternate on the back of the menu throughout the year. A separate comic book will still be available for children who want them and full meals will still come with a fun toy.
New menu items include chicken and cheese quesadillas, "Bosco Stix," and buttery noodles. Parents seeking healthier options for their children can steer them towards the new "Kidz Smart Start" oatmeal, yogurt and apple slice breakfast or the grilled chicken dippers or wrap at lunch or dinner.
Old favorites like hot dogs, "Spaghetti Spaghetti" and Kraft macaroni and cheese are still available, as are classic sides like French fries, onion rings or Big Boy's famous soup and salad bar. New, healthier side choices include sliced apples and strawberry yogurt.
"We're honored by the loyalty parents, and especially children, continue to show Big Boy and are so excited to share this new menu with a new generation of the Big Boy family," Michaels said.
Headquartered in Warren, Michigan, Big Boy Restaurants International LLC is the exclusive worldwide franchisor of more than 455 Big Boy Restaurants in the United States and Japan. Visit us at http://www.bigboy.com.
###