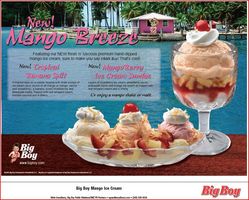 Our latest menu promotions have something new to offer every appetite for breakfast, lunch or dessert
Warren, Mich. (PRWEB) July 4, 2008
Bob's Big Boy is ready to jazz up the longest, hottest days of summer with exciting new menu items as well as the return of two popular pasta dishes. Starting July 21, diners can enjoy the bold new Breakfast Quesadilla or Santa Fe Omelette. And great for lunch or dinner are Baked Spaghetti, Chili Spaghetti, and the brand new Three Cheese Tortellini. Top it all off with new luscious mango ice cream desserts. All are available at participating Bob's Big Boy restaurants in California and in Lake Havasu City, Arizona.
The zesty Breakfast Quesadilla is a new twist on the classic Mexican favorite. Its grilled flour tortilla comes loaded with scrambled eggs, red pepper, red onions, melted mild pepper jack and cheddar cheeses and a choice of bacon or sausage. Cool sour cream and Garden Fresh Gourmet Black Bean & Corn Salsa bring a little extra kick.
The new Santa Fe Omelette is stuffed with mushrooms, red pepper, red onion and mild pepper jack cheese and served with hash browns and choice of toast, biscuit or hot cakes. A dollop of refreshing sour cream and spoon of tangy Garden Fresh Gourmet Black Bean & Corn Salsa give the omelette a summer flavor.
For the pasta lover is the new Three Cheese Tortellini filled with a combination of ricotta, Parmesan and provolone cheeses gently tossed with Bob's creamy tomato sauce. Chicken or shrimp may be added for an additional price. Rounding out the pasta trio are Baked Spaghetti, topped with Bob's famous meat or marinara sauce and special cheese blend, baked to perfection. There's also Chili Spaghetti with a choice of spaghetti or penne pasta covered with Bob's famous chili then topped with melted cheddar cheese. All three pasta dishes are served with a grilled Grecian roll and tossed salad.
Then for dessert, why not a mango shake, made with fresh, new premium hand-dipped mango ice cream? Diners can also try the cool, fresh mango flavor in the decadent Tropical Banana Split, or treat their summertime sweet tooth to a MangoBerry Sundae or classic malt.
"Our latest menu promotions have something new to offer every appetite for breakfast, lunch or dessert," said Tony Michaels, CEO of Big Boy Restaurants International LLC. "And all are made fresh, the Bob's Big Boy way,"
Headquartered in Warren, Michigan, Big Boy Restaurants International LLC is the exclusive worldwide franchisor of more than 455 Big Boy Restaurants in the United States and Japan. Visit us at BigBoy.com.
###