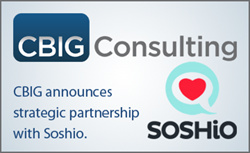 Chicago, IL (PRWEB) June 16, 2014
Business Intelligence and Big Data analytics expert CBIG Consulting has confirmed the formation of a new strategic partnership with Soshio, a leading social media data analytics firm that tracks and develops quantifiable business intelligence from Chinese language-based social media. Both firms were recognized in CIO Review's 2014 "100 Most Promising Big Data Companies" directory earlier this year.
Cameron Price, CBIG's Managing Principal for the Asia-Pacific Region, stated he will be heading the partnership effort with Matt Grotenstein, Co-Founder and Chief Executive Officer at Soshio. Explaining the motivation behind the relationship, Price referred to growing enthusiasm and demand for social media in China in recent years on the part of its 1.3 billion inhabitants. He said this phenomenon, making social media the preferred method Chinese businesses and individuals use to communicate, has created one of the largest markets for social media analytics in the world. "This truly strategic partnership allows both Soshio and CBIG to offer a broader range of solutions to our clients," said Grotenstein.
Price said Soshio's subject matter expertise in social media analytics—and Chinese-language social media in particular—is a natural complement to CBIG's expertise in Big Data analytics, social media analytics, cloud-based analytics, and other data analytics consulting services. Soshio's proprietary platform drills down into region-specific nuances, demographics, cultural factors, and other parameters in discovering key business drivers for enterprises that sell products or services to Chinese consumers. Price added, "Both CBIG and Soshio recognize this alliance as a golden opportunity to improve our firms' service offerings and mutually benefit from each other's expertise so we can provide better business intelligence solutions to our global clients."
Matt Grotenstein and Cameron will also conduct a joint presentation at AdTech China in Shanghai, China on June 26-27, 2014. For more information about this event, visit http://www.adtechchina.com/en/.
About CBIG Consulting (CBIG)
CBIG Consulting is an international team of experts in Business Intelligence, Big Data Analytics, Data Warehousing and Cloud-based Analytics platforms. Selected by independent research firm SourcingLine as well as CIO Review as a leading Big Data analytics consulting firm, CBIG consultants average fifteen years of direct experience in the field. CBIG works with global enterprises, mid-size businesses, and non-profit organizations in solving mission-critical reporting and analytical needs. CBIG is headquartered in the Chicago, IL area, and has additional offices in San Francisco, CA, Boston, MA, Denver, CO, Austin TX, Raleigh, NC and Sydney, NSW, Australia. For more information, please visit http://www.cbigconsulting.com.
About Soshio
Soshio is a social media analytics provider with a focus on the Chinese market. Soshio aims to empower its clients with the tools and services to discover key social insight vital to their business. Soshio analyzes millions of conversations across major Chinese social media platforms and provides real-time reports using sentiment and emotion analyses, context, and many other analytical features. For more information, please visit http://www.getsoshio.com.