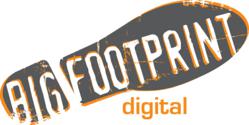 Denver, Colorado (PRWEB) September 07, 2012
Big Footprint Digital, a Denver-based search marketing and lead generation consultancy, was one of several companies that received a prestigious Gold Peak Award from the Colorado Chapter of the American Marketing Association in June. Big Footprint specializes in search engine and content marketing that drives online presence to increase traffic, leads, and revenue.
The Colorado American Marketing Association awarded Big Footprint Digital a Gold Peak Award in the Search Engine Marketing category. Big Footprint Digital was recognized for their hard work on June 7, 2012 at the 24th Annual Peak Awards Gala held at the City Hall Event Center. The event is one of the largest in Colorado dedicated to celebrating the achievements of the state's marketing and advertising community. Peak Awards are given as Bronze, Silver, and Gold in each category of consideration, including print advertising, email marketing, public relations, and many more. Winning entries are determined not only by looks and aesthetics, but more importantly, by the effectiveness of the campaign's results.
Big Footprint Digital won the Gold Peak Award for their work with Level 3 Communications to implement a strategy to market groundbreaking telecom products to mid-market companies. Big Footprint utilized a number of methods to achieve success with this pay-per-click (PPC) campaign, including developing custom landing pages, implementing click-to-sale tracking, conducting multivariate testing, and more. Among other very impressive results, Big Footprint achieved a 250% increase in click-through rate and a 276% return on investment (ROI) for Level 3 Communications.
Receiving a Gold Peak Award amongst some very strong competition is a huge accomplishment and the Big Footprint team was elated to learn that their work had been recognized. According to Nick Yorchak, President and Founder, "I'm really proud of the team we've been able to build and the work we are doing. Being recognized alongside our partners at Level 3, the COAMA judges, and the B2B marketing community in Colorado means a lot to us."
About Big Footprint Digital
With the intense competition for eyeballs online today, it's not enough anymore to simply build a digital presence. You have to draw people to it. Big Footprint makes your presence known. A Denver-based search and content marketing agency focused on lead generation, Big Footprint is led by a team of seasoned experts specializing in various aspects of the search marketing spectrum. Founded in 2009, we partner with B2B & B2C marketers, agencies, and web developers to augment the online marketing campaigns you're creating or have already launched. Leading agencies trust us, and outsource SEO to Big Footprint. We architect and execute digital marketing programs through the science of search. The effect is both powerful and profitable. We will help you make more money.