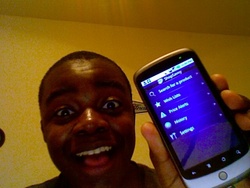 Demi's video provides a great illustration of how millions of consumers around the world are using ShopSavvy every day – in many cases, changing the way they shop forever
Dallas, TX (Vocus) April 3, 2010
Big in Japan, a Dallas-based idea factory for mobile applications, announced today that Demi Adejuyigbe, a freshman at the University of Texas at Austin, is the winner of the first ShopSavvy fan video contest. Adejuyigbe was awarded a Google Nexus One phone.
Big in Japan also announced the launch of a second ShopSavvy video contest and will award a Motorola Droid to the winner, who will be selected from the first 100 entries received.
"Demi's video provides a great illustration of how millions of consumers around the world are using ShopSavvy every day – in many cases, changing the way they shop forever," said Alexander Muse, co-founder of Big in Japan. "We look forward to this being the first of many fan contests to encourage ShopSavvy users to share their experiences."
Said Adejuyigbe: "As a college student, I'm forced to be frugal everywhere and anywhere I can be. I've saved well over $1,000 with this application -- including about $200 on the video camera I used to shoot this video. I take it with me whenever I shop."
You can view Adejuyigbe's winning video at the following link: http://www.youtube.com/watch?v=wK6HykLLcxE
To enter the second ShopSavvy fan video contest, interested users should:

record a short video (two minutes or less) describing how they used ShopSavvy to save money while shopping;
provide details such as store name, location, product name, and amount saved;
star in the video themselves (no actors);
be sure to show their phone running ShopSavvy;
upload the video to YouTube, including the title "ShopSavvy Fan Video from (name)" and the tags "shopsavvy, shop savvy, barcode, barcode scanner, upc, ean";
focus on your savings from ShopSavvy – do not mention the contest itself;
e-mail your name, mailing address and a link to your video to sales(at)biggu(dot)com.
The Droid winner will be selected from the first 100 entries received, so users are encouraged to submit their videos promptly, and no later than May 15. Only one entry per user will be accepted.
ShopSavvy enables mobile users to comparison shop on the go for more than 20 million products at more than 20,000 retailers worldwide, simply by scanning the product's barcode using their phone's built-in camera. Using the barcode information, ShopSavvy searches the Web for the best prices on the product, displaying the lowest prices online as well as at nearby brick-and-mortar retailers. ShopSavvy looks up product reviews to further assist with purchase decisions.
About Big in Japan
Big in Japan Inc. is a Dallas-based idea factory for mobile applications, building software for Google's Android, Apple's iPhone, Windows Mobile and other platforms and devices. Big in Japan's ShopSavvy application — a personal shopping assistant — is one of the most popular applications on Android-powered mobile phones. Big in Japan is incubated by Architel, the Dallas managed services provider. For more information, visit http://www.biggu.com
###