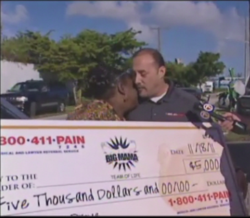 When Big Mama asks, you don't say no to Big Mama.
Florida (PRWEB) November 10, 2011
Robert Lewin, owner of 1-800-411-PAIN, donated $5,000 to Big Mama and her Team of Life, a community activist non-profit organization based in Florida. These proceeds will support Big Mama's goal of feeding 25,000 families on November 18, 2011 in honor of the Thanksgiving holiday.
Essie Reed, affectionately known as "Big Mama", kissed Mr. Robert Lewin as he surprised her with an additional pledge of $5,000 to help her cause in Dade and Palm Beach Counties.
Big Mama and her Team of Life offer community members shelter, unwavering support and instill lifetime values to the youth population. Big Mama also trains young people in education, service and leadership. Many of the kids that Big Mama trains will volunteer November 18 by handing out turkeys to needy families.
Team of Life Inc's goal is to create harmony, unity and educational advancement for youth and parents alike. The Team of Life website reads: "In our experience, such activities help build common understanding, enhance excellence, enable people to improve their lives and reinforce their commitment to society."
Donated turkeys must be dropped off by November 16 at 2136 NW 8th Street, Fort Lauderdale, FL. For a list of other events hosted by Big Mama and Team of Life, visit http://www.bigmamahelp.com/events.html.
About Big Mama and Team of Life:
The Team of Life is a Florida a 501(C)(3) non-profit charitable organization founded in 1981. Its mission is to help others in need using a selfless passion for excellence in education, social advancement, and community involvement through values based encouragement and programs.
About 411-Pain:
1-800-411-Pain is a medical and lawyer referral service with over 15 years of experience in easing the pain and suffering of those injured in auto accidents. Visit 411pain.com or Facebook/411Pain for additional information.
Contact:
Tel: (954) 584-1400
E-mail: Bigmamahelpseverybody(at)yahoo(dot)com
###