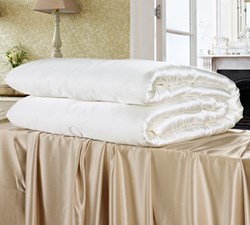 We hope customers enjoy the great time with our hypoallergenic comforter sets at night.
Brooklyn, NY (PRWEB) November 14, 2013
It is reported that more and more people like to buy 100% mulberry silk comforters in the chilly winter. Lilysilk, one of the top manufacturer and retailer of silk bedding, is excited to announce its special offer on silk duvet sets for Thanksgiving Day.
Lilysilk provides a wide range of silk sheets, including duvet covers, fitted sheets, flat sheets, and pillowcases, in 16 colors from white, rouge, to ivory. All these sheets are all manufactured with high quality, chic designs, and gorgeous looks. Lilysilk comforters paired with 22mm duvet covers are the perfect sets used in Winter. Made from 100% pure silk, these duvet sets possess hypoallergenic and breathable features. In addition, the company offers 45-day risk-free guarantee of returning goods that are not used or washed, and in the original package.
"We are exploring the market and find that more and more people are realizing the benefits of silk comforters and bedding. It is a good trend. We will manufacture much more high-quality products at competitive prices to meet the needs of customers. This time we launch the Thanksgiving promotion to thank all our new and returning customers," says, Mike Lee, CEO of Lilysilk. "We hope customers enjoy the great time with our hypoallergenic comforter sets at night."
Furthermore, Lilysilk bedding store has also offered the similar discounts on fitted sheets and pillowcases. The sale extends savings on their dazzling collection of 22mm and 25mm silk bed linens, which are available in various sizes and colors.
About Lilysilk
Lilysilk bedding store is a reliable place to buy high-end and luxurious silk products, such as sheet sets, comforters paired with duvet covers, pillows and pillowcases, and silk pajamas. Refined fabrics, delicate tailoring, exquisite craftmanship, high quality at competitive prices, considerate after-sale service, are reasons to choose Lilysilk.com.
More information about Lilysilk Thanksgiving promotion can be accessed at: http://www.lilysilk.com/.