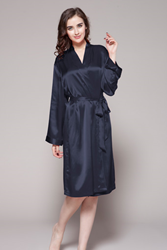 Pure silk gives it an incredibly smooth feel that you will sink right into
Los Angeles, CA (PRWEB) April 05, 2014
Lilysilk has introduced its new 22MM silk pajamas to customers for days. Recently, the company has greatly announced its Easter Sale, offering big 30% off discounts on its 22MM classic full-length silk robes. This style of silk robes is delicately-designed for women who are looking for silk pajamas.
According to Lilysilk website and its CEO Mike Lee, the classic full-length silk robes (Model Number: SRW003) are featuring ultra-chic shawl collar, long sleeves with banded cuffs, two front handy pockets, open front with a self matching silk belt and internal tie closure, of which details are carefully designed. The business promises that they only use premium-quality mulberry silk to make into their pajamas. As a result, they chose much luxurious 22MM silk as fabrics of their gorgeous pajamas. Lilysilk values quality and customer satisfaction a lot. They aim to bring the best-quality silk bed sheet sets and nightwear for customers worldwide at competitive and affordable prices.
"Whether you are wearing this long silk robe to start the day or relax at night, its classic design and signature premium silk will help you do it with unmatched elegance and distinction. Pure silk gives it an incredibly smooth feel that you will sink right into....This is our silk robe which is your best option for your night." says Mike Lee.
This women's silk robe was previously priced at $239, and it is available right now at a discounted price of $167. According to Mike Lee, the promotion will be valid until April 20. Customers could feel assured to purchase at Lilysilk which also offers free service of requesting swatches. Besides, all items at their company are delivered for free within 3-5 working days.
More information about Lilysilk store can be accessed at: http://www.lilysilk.com/ or directly at its robe page: http://www.lilysilk.com/22-Momme-Classic-Full-Length-Silk-Robe-311-n