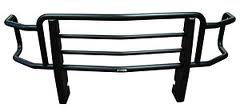 Safety products are helping more drivers to protect themselves and their vehicles
Cincinnati, Ohio (PRWEB) June 25, 2013
Replacement auto parts are often purchased by consumers who require internal replacements for worn parts. An emerging market for some third party parts supply companies is the exterior safety parts market. The AutoProsUSA.com company is now offering a popular safety device for trucks online. The Big Tex Grille Guard is now for sale online through http://autoprosusa.com/big-tex-grille-guard-for-sale. This steel grille guard is now marketed for a lower than average retail price to benefit truck owners.
The safety for vehicle owners is consistently monitored by automakers. Changes made to the exterior and interior components used have resulted in a range of products created. Independent companies now supplying replacement parts for major automotive brands is a growing industry.
The pickup truck grille guards that are now for sale online have been researched for quality prior to insertion in the online database of parts for sale. Unlike the majority of the preowned parts inventory, the Big Tex grilles are in brand new condition and fulfilled by distributors.
"Dings and deflections from rocks and other debris can cause radiator or engine issues," a source from the Auto Pros company added. Multiple grille guards and other safety equipment have been added to the company inventory this year. "Safety products are helping more drivers to protect themselves and their vehicles," the source added.
Apart from the new safety products parts listed for lowered pricing, OEM parts have been added on a continuous basis this year. These genuine automaker parts are sourced from preowned supply companies in effort to expand the genuine parts accessible by vehicle owners in the U.S. Imported and American made auto parts are now included in the genuine inventory of available parts. The company quotation system that is used to offer up to date pricing online can be used to locate the OEM parts or safety parts that are now included for immediate for sale online.
About AutoProsUSA.com
The AutoProsUSA.com company is a leading supply company for preowned car, truck and sport utility vehicle parts on the Internet. This company receives its listed inventory from trusted automotive suppliers in North America. Negotiated low pricing is part of the incentives that consumers find packaged with each sale. A toll-free customer number has been established in 2013 by the AutoProsUSA.com company for easy access offline to pricing and inventory data. This company has grown at a faster pace this year compared with previous years spent in the auto industry.