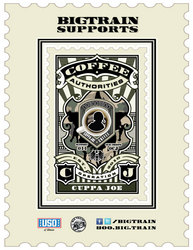 "We know how much soldiers enjoy their coffee. If we can lift their spirits with one of our beverages then we are honored to participate."
Chicago, IL (PRWEB) February 11, 2011
Big Train®, the leading manufacturer and distributor of premium branded powdered and liquid concentrate beverage mixes serving the specialty coffee, foodservice and retail industries, announced their support for CoffeeAuthorities Operation Cuppa Joe million pound coffee donation program supporting troops stateside and abroad.
CoffeeAuthorities is working with growers, roasters, retailers and ancillary coffee companies to raise awareness, coffee donations, raise funds and drive foot traffic to participating retailers to support this initiative. The company will launch its yearlong Operation Cuppa Joe at Coffee Fest Chicago with the first donation going to the USO of Illinois who will be providing volunteers, logistics, and community support to get coffee to the men and women of our military.
Big Train will be attending the Coffee Fest show in Chicago (Booth #601) going on from February 18 – 20 2011, and will participate by supporting the program in various ways.
"We are thrilled to support and promote Operation Cuppa Joe", says Robyn Hawkins, CEO of Big Train Inc. "We know how much soldiers enjoy their coffee. If we can lift their spirits with one of our beverages then we are honored to participate."
CoffeeAuthorities mission will be to set up coffee collection points throughout the city coffee shops and Cafe's as well and from exhibitors at the Specialty Coffee Trade Show. All whole bean coffee donations then will be distributed to U.S. Armed Forces members from all branches of service- Army, Navy, Air Force, Marine and Coast Guard.
"I am humbled by the response by coffee industry leaders," said David Cook, CoffeeAuthorities CEO. "We appreciate Big Train's commitment to this cause and we look forward to partnering together to pay tribute to our military men and women spread around the globe.
The Company will be initiating coffee collection, coffee donation and distribution through 18,000+ coffee shops and cafe's throughout the United States to provide a steady flow of coffee to troops deployed worldwide.
About CoffeeAuthorities
CoffeeAuthorities has 30 years expertise activating consumer retail brands. The Company is focused on the Specialty Coffee Brand & Retail Development market and helps existing, new and emerging brands create brands, markets, distribution, retail and wholesale channels to activate sales revenues. For more information about CoffeeAuthorities please visit http://www.coffeeauthorities.com or add via http://www.facebook.com/coffee.authorities, http://www.twitter.com/OppCuppaJoe.
About USO Illinois
The mission of the USO of Illinois is to enhance the quality of life of the U.S. Armed Forces personnel and their families and to create a cooperative relationship between U.S. military communities and involved or supporting civilian communities. The USO of Illinois annually serves more than 300,000 active duty, guard and reserved military and military families and coordinates more than 300 programs and services, year-round at five USO Centers: USO Navy Pier, USO Midway, USO Great Lakes, USO O'Hare, and now the USO AA Cyber Canteen O'Hare. The USO (United Service Organizations) is a 501 (c) (3) registered nonprofit organization that receives no direct government funding. For more information, please visit: http://www.uso.org/illinois.
About Coffee Fest
Coffee Fest has been celebrating coffee long before coffee was "hot". In 1992, they gathered coffee professionals together in Seattle for their first consumer coffee festival. After several years of hosting thriving events, Coffee Fest turned its focus toward the specialty coffee, gourmet tea and alternative beverage industry and brought retailers, distributors and manufacturers together for its first retail trade show in 1998. With a mission to help attendees build and refine their specialty coffee businesses, they coupled a relevant educational program with a convivial trade show floor to create a successful show that serves as a touchstone for many in the specialty coffee industry. "The little coffee show that could" hosts three annual trade shows across all regions of the country. Coffee Fest remains the industry's top-performing show, consistently providing retailers with relevant information to hone their business skills and up their bottom line. For more information, got to http://www.coffeefest.com.
About Big Train, Inc.
Founded in 1991, Big Train® has grown to be the leading manufacturer and distributor of premium powdered and liquid concentrate beverage mixes serving the specialty coffee, foodservice and retail industries in the US and abroad. Headquartered in Lake Forest, California with a manufacturing facility in Rancho Santa Margarita, California, Big Train® is known for high quality beverage solutions that are great tasting and easy to prepare. Big Train® offers a wide array of products including blended ice coffees, coffee-free blended crèmes, chai teas, fruit smoothies, kids' beverages, hot cocoas (hot chocolates), powdered soft serve, low carb beverages and flavored syrups to more than 20,000 customers including independent and small chain coffeehouses, bakeries, foodservice operators and its extensive international distributor network. For more information, visit http://www.bigtrain.com or call 800-BIG-TRAIN (that's 800-244-8724). Or follow @BigTrain on twitter http://www.twitter.com/bigtrain or like Big Train on Facebook at http://www.facebook.com/bigtrain.
###