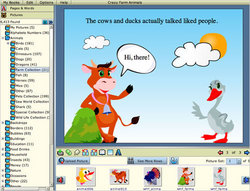 We have successfully created an online community where people can read, buy, sell and learn about beautiful children's picture books -- and even create them -- all on one site.
Reston, Va. (PRWEB) March 6, 2008
Big Universe, Inc., today formally launched BigUniverse.com, a unique website where kids, parents, teachers, librarians and authors can read, create and buy quality children's picture books.
Big Universe is the first company of its kind to offer the many popular features it combines in its one website: a powerful and fun book-creation tool for aspiring authors, hundreds of children's books readable for free on the website, a virtual mall of online children's bookshops, blogs by professional authors and many other features designed to maximize interest in children's reading and creativity.
"We are very excited about our launch," says Anil Hemrajani, president and founder of Big Universe. "We have successfully created an online community where people can read, buy, sell and learn about beautiful children's picture books -- and even create them -- all on one site."
BigUniverse.com is unique because it addresses several issues related to the children's book industry. For publishers, Big Universe maximizes the best features of web promotion to provide publishers a cost-free way to showcase their books and sell them to consumers while also building brand awareness for their companies. For parents, teachers and librarians, it offers a convenient way to browse for and buy books online. For aspiring authors, it is an easy and quick way to experiment with writing children's books. For kids, it combines fun and education in a high-quality reading experience with an innovative tool to explore writing and creating books of their own at home or school.
"We launched the beta version of our website late last year and immediately saw exciting results. Not only were people reading a lot of books online, but a large percentage was clicking the Buy buttons to purchase the print versions of the books," states Hemrajani. "While our book-creation tool is a more recent addition, it's causing equal excitement. We're constantly running across kids and adults who love creating children's books using desktop software. Now they have a robust web-based tool that will let them exercise their creative talents."
BigUniverse.com's technology consists of three key components: the website itself, Big Universe Reader™ and Big Universe Author™. The website was designed with both kids and adults in mind. Big Universe Reader is an easy-to-use tool for browsing through and purchasing picture books online. Big Universe Author is a highly sophisticated, equally simple and fun tool that enables users to create and publish books on BigUniverse.com. The creation feature, which is also free for users, utilizes unique technology that enables providing thousands of stunning static and animated images, support for gradient colors, uploading of members' own images, storyboarding and many other book-creation tools.
With traffic building rapidly, BigUniverse.com is already logging thousands of site visitors each week. Its goal is to quickly become a very high traffic website, hosting over a million unique visitors each month. Hemrajani, a highly regarded IT entrepreneur and author with a global following, brings together 20 years of experience building complex software applications for Fortune 1000 corporations and successful, robust online communities.
"BigUniverse.com is the culmination of a longtime dream of combining my professional background and my love of children's books in creating the place to go to maximize the enjoyment of reading and everything that grows from it. We want to leverage the power of the Internet to increase the love of reading and writing children's books. I hope people will love BigUniverse.com, and will realize this is just the beginning of what's to come!"
To learn more about Big Universe and its offerings, visit http://www.biguniverse.com/. Contact: info @ biguniverse.com.
About Big Universe: Big Universe® is an online community where kids, parents, teachers, publishers, authors, illustrators, bloggers and others come together to explore the exciting world of online children's books. It offers hundreds of fiction and nonfiction children's books readable directly on the website, a book authoring tool to create and publish children's books, blogs on relevant topics and much more. For more information, visit biguniverse.com.
# # #