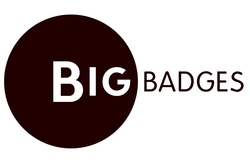 your business's best friend for badges
London (PRWeb UK) June 11, 2010
This spring, international badge specialist BIG unveils a new image for 2010, bringing the renowned BIG brand up-to-date in a way that better reflects the company's personality and present profile.
BIG has come a long way in the last ten years since its last rebrand. Joe Jones, BIG's UK sales and marketing manager explains, "since then, we have modernised every part of how we work, from taking orders manually to moving to online ordering. We have upgraded equipment such as engraving, incorporating modern automated processes. As the business evolved and took on board new technologies, in a sense we left the brand behind. What we have done is refresh the BIG brand to bring it in line with the company today."
BIG's new logo is simple, strong and stylish, an image in black and white. It is also quirky and fun. It simplifies the brand and brings the different products and services together under one umbrella. B.I.G has also become simply BIG - a neater, snappier name to go with the fresh, new brand.
Underlying this brand refresh is a focus on the BIG Promise. BIG believes that they are "your business's best friend for badges". Revolving around the white and black Dalmatian, the BIG customer promise is very evident: "loyal, trustworthy and ever alert to your business needs, right by your side when you call and damned fast when you want us to be."
Like a new skin, the brand refresh has taken place across the whole company. The company's website http://www.big.co.uk has been redesigned to fit in with the new image, focusing entirely on badges, with the business card side of the business now having on its own site. The site is clean, bright and easy to navigate. It has new content, including videos, and a twitter feed. BIG also has its own Facebook page.
"We want to take advantage of social networking technology to get closer to our customers and improve customer service,' says Joe. 'We want to have a lot of fun in the coming years. Our products are fun and colourful, and we want the brand and the website to reflect this."
BIG produce badges out of their 11,000 sq foot factory in Ipswich. BIG is Europe's largest dedicated supplier of high quality name and ID badges and custom lanyards. The BIG product range includes permanent employee ID name badges for customer facing staff and professional, re-usable name badges and lanyards for conferences and events. BIG have over 20 years' experience and produce more than two million name badges and 13 million business cards each year.
Joe Jones
BIG UK Sales & Marketing Manager
T: +44 (0) 208 614 8914
F: +44 (0) 208 614 8800
E: joe.jones(at)big(dot)co(dot)uk
W: http://www.big.co.uk
BIG House
111 Waldegrave Road
Teddington
Middlesex TW11 8BB