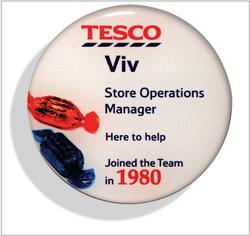 BIG name badges are impactful. They enhance the company's brand and identity, reinforce customer service, create a responsible culture with employees and strengthen internal security.
London, UK (PRWeb UK) November 9, 2010
New research in name badges, carried out in the UK, Australia and New Zealand over the last eight years, has found that wearing a name badge can make a large and immediate difference to customer satisfaction levels in both the retail and hospitality industry.
The study, carried out by mystery shopping and customer experience experts Shopper Anonymous, found that when a range of businesses introduced name badges for all staff, customer satisfaction ratings rose by a remarkable 12% almost overnight, in comparison to those that didn't require staff to wear badges.
The findings came out of the study of 116,000 mystery shopper reports. Results show that mystery shoppers wanted staff to be wearing badges so they could distinguish between staff and other shoppers if uniforms weren't being worn; they also said that they trusted staff wearing name badges and were more likely to build up a relationship conducive to making a sale with someone who wasn't anonymous.
BIG, the international name badge specialist], supports the result of this research and comments that the benefits for any organisation introducing name badges can be felt throughout the whole operation. As Joe Jones, BIG Sales and Marketing Manager said, "BIG name badges are impactful. They enhance the company's brand and identity, reinforce customer service, create a responsible culture with employees and strengthen internal security. Our name badges are today used in companies of all sizes across the UK and not just in retail and hospitality."
As founder and Managing Director of Shopper Anonymous, Jonathan Winchester said, the findings carry a stark message for both retailers and those running hospitality businesses. "Who wouldn't want to see an almost immediate rise in satisfaction from their customers? It may seem like a minor thing but customers like to know who they're being served by and it makes it easier for the staff member to build rapport, thus making it easier to sell on. Badges also make staff more accountable for their actions and attitude as customers know who to complain about."
Business owners told Shopper Anonymous that name badges made a real difference to their operation. John Sinclair, Owner, Craigies Farm Shop, Edinburgh said: "We've been wearing name badges for about two years now, and introduced them when mystery shoppers questioned why we weren't using them. We immediately saw staff become much more accountable for their actions and customers told us it made the staff far more approachable. Wearing name badges has helped make our loyal customers friends and our friends loyal customers."
Guy Hodge, Operations Manager at Imago's Burleigh Court Hotel and Conference Centre in Loughborough added: "There are benefits to ensuring our employees wear name their badges all of the time. In particular they help to identify good and bad performers within the team; good performers can be singled out for recognition and reward, whilst bad performers can be helped with additional training. It is also easier to deal with any problems or issues that customers may raise if management has the correct names of the employee right from the start. In addition, I believe that name badges can often put a little pressure on staff to behave well, ensuring that they inevitably take a little more responsibility for their behaviour. I think guests expect staff in hotels and restaurants to wear name badges. They certainly help to break down barriers and aid communication."
BIG is Europe's largest dedicated supplier of high quality name and ID badges and custom lanyards. The BIG product range includes permanent employee ID name badges for customer facing staff and professional, re-usable name badges and lanyards for conferences and events. BIG have over 20 years' experience and produce more than two million name badges and 13 million business cards each year.
Notes for Editors:
BIG is part of the Brady Corporation, with operations in 22 countries, and distribution in over 100 others. BIG has worked for thousands of organisations of every size and in every sector.
The manufacturing operation is located in Ipswich.
Spokespeople for comment include Joe Jones, UK Sales and Marketing Manager. Detailed Biog information is available upon request. For a list of services and products, please visit http://www.big.co.uk.
Joe Jones
UK Sales & Marketing Manager
T: +44 (0) 208 614 8914
F: +44 (0) 208 614 8800
E: joe(at)big(dot)co(dot)uk
BIG House
111 Waldegrave Road
Teddington
Middlesex TW11 8BB
http://www.big.co.uk
About Shopper Anonymous
(http://www.shopperanonymous.co.uk)
Shopper Anonymous UK is the UK's leading mystery shopping company, specialising in improving customer service standards by providing businesses with constructive, non-emotive feedback through our mystery shopping programs.
Shopper Anonymous programs are unique due to the quality of observations. Mystery shoppers are hand-picked and fully trained, meaning the quality of the feedback is accurate and written in a style that explains the experience in a full, constructive but honest manner.
Set-up in 1995 by Jonathan Winchester, in Perth, Western Australia, Shopper Anonymous has developed the highest quality mystery shopping product in the world.
Ten years later, after successfully expanding the business into the Eastern States of Australia and New Zealand and selling them, Jonathan moved back to East Sussex to establish Shopper Anonymous UK.
# # #