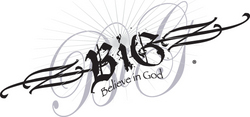 Aurora, CO (Vocus) February 9, 2010
"BiG, Believe in God"®, is not just another brand coming to market, but a core belief that is shared by billions of people or roughly over 90% of the world's population. An expression of life, the fabric that binds us together as a people, "BiG, Believe in God"® is positive and descriptive, immediately recognizable and non-offensive, a brand that defines and drives its products.
The product line is designed to be unique and progressive - appealing to people from all backgrounds. The styles and colors are in synch with the latest trends in the market. Please check them out on the http://www.believeingod.org web site. Especially now more than ever, people around the world will embrace the "BiG, Believe in God"® brand, products, and positive message at a time when everything around us appears uncertain.
About BiG Corporation
Incorporated in Colorado, BiG Corporation owns the registered trademark "BiG, Believe in God"® in the United States and many other countries around the world.
BiG is not intended to promote any one religion and/or religious group(s) but to give recognition to the essence and foundation of all religious organizations who believe in God.
###