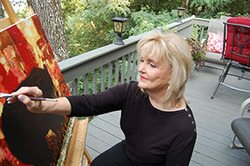 expresses the atmosphere of Tuscany with lots of color and the bright red of poppies.
Marble Hill, GA (Vocus) September 2, 2010
More than 20 artisans and three galleries will join artist Ann Young at the Fine Mountain Arts and Crafts show in Big Canoe over three September weekends. And, there will be something for every taste — from the perfect oil painting for over the mantle to whimsical sculptured stoneware. Interested in garden art? You may chose cedar and copper birdhouses for that special touch in the yard or a metal butterfly to decorate the deck. All art will be available for purchase. Plus enjoy a chance to meet and greet the artist.
Recognized for her talent and artistic range, Ann Young (organizer and artist) combines color and texture to create truly unique oil paintings. An established artist with a broad following, Young's work has been displayed in exclusive galleries in Georgia and Florida and appeared in Florida Design Magazine. She will be showing new original paintings at the Sept. art show. As an example, Young points to a painting that, "expresses the atmosphere of Tuscany with lots of color and the bright red of poppies."
Ann Young choice of subjects is diverse: A painting may capture black bears foraging in the north Georgia forests or artistically interpret local scenes, flowers, landscapes or a burst of poppies on a Tuscan hillside. An original in life and art, she often paints a scene first with a brush then uses a palette knife to add depth and dimension. Young's skill with a brush evokes a connection between the viewer and her paintings, which is further enhanced by the artist's loose impressionist style in brush strokes and the heavy texture she applies with her palette knife. Visitors to the art show will have the opportunity to view and purchase her series of originally painted images.
Ann Young will be accompanied by 20 additional artisans. Representing diverse talents and art modes, the artisans will exhibit selections of their photography, raku, baskets, stoneware, art glass and porcelain. Featured artists from the north Georgia and North Carolina mountains include:

Rae Breed's raku pieces, stoneware and lidded vessels. Breed teaches pottery and fused glass at the John C. Cambell Folk School.
Loren Lukens' functional high-fired porcelain.
Rex Benson's whimsical high-fired stoneware sculpture with acrylic embellishments.
Bill Campbell's high-fired porcelain with crystalline glaze.
Nancy Jones' hand-woven original baskets made from honeysuckle, reed, antlers, waxed linen, and natural fibers. Jones teaches basket weaving for the John C. Cambell Folk School.
Tommie Rush's tulip and iris vases and Kenny Peiper's gold and red Reticello vases and hand- blown glass.
Rick Lucas' creative photography.
David and Julie Boone's cedar and copper birdhouses.
Francis Vega's metal butterflies and dragonflies.
Sponsored by Big Canoe Company, the art show will run from 10 a.m. until 4 p.m. on the weekends of Sept. 10, 11, 12; 17, 18, 19; and 24, 25, 26 at 901 Choctaw Village. There is no charge to attend the show. For directions; just follow the link: Big Canoe.
For more information or to interview Ann Young, please contact: Barbara Schneider at 404-626-5385. To read more about the event visit Big Canoe News (Smoke Signals Online edition.)